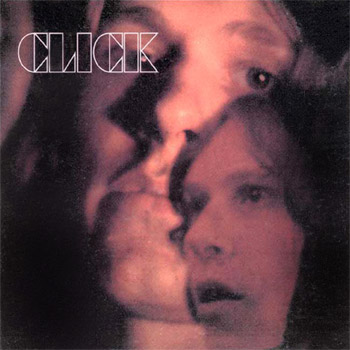 This album is officially out of print though I bought a cdr copy off Click Horning's website.  I think Click burned the music on this cdr directly from an original vinyl copy of Click, which was originally released on ABC records in 1968.  Prior to this he had released a worthwhile single or two, none which I have ever seen or heard before.  There had been rumors of a cd reissue which would include the album and singles/oddities, possibly by Sunbeam Records, though nothing has resurfaced since writing this review.  The album was recorded in New York City although Click is a native of New England and somewhat of a local legend in his hometown.  He currently lives in New Hampshire and plays every Saturday afternoon at Peter Christian's Tavern in New London (try to check him out one night).
So what of the album?
In a day when all kinds of mediocre folk and acid-folk albums are being reissued by the dozen, Click holds up remarkably well for it's quality songs, mysterious aura and unique originality.  Click's lyrics are strange, eccentric and soul searching, just listen to Many Times Jimbo, perhaps the lp's highlight and most well-remembered song.  This track is an acoustic number with lots of sitar and deep mystical lyrics:  "moonlight serenaders solemnly they sing" and "the ghosts of memories they haunt you."  This is a remarkable song that's very pastoral and exudes a strong sense of self-awareness: it's one of the all-time great acid folk classics.  This track is followed by My Precious, a beautiful spacey ballad with flute and piano.  On this track Click's voice closely resembles that of Nick Drake.  Most of the other tracks are less psychedelic but well performed and always interesting.  Crazy Hannah would be another one of the lp's highlights.  This is a driving, playful number with fiddle, drums, piano and bizarre lyrics: "Crazy Hannah, yes, I knew her, so thin and frail, you could read a book right through her."  Another track, Find It For Yourself, sounds remarkably like Beck (from the 90s) while For Judith, To Paris and See That My Children Got Warm Clothes are striking if unconventional folk-rock ballads.
If you're into esoteric late 60s folk-rock this is a great unknown album.  Click Horning is a true original, it's a shame none of his material has been made available for a wider audience.
Audio clip: Adobe Flash Player (version 9 or above) is required to play this audio clip. Download the latest version here. You also need to have JavaScript enabled in your browser.
"Crazy Hannah"

CDR Copy | clickhorning.com ]