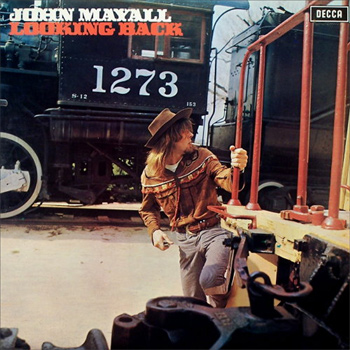 Despite the incredible amount of critical acclaim afforded to John Mayall's mid-sixties recordings with the Bluesbreakers, the mainstream seems to have left him behind by the time 1969 rolled around. It's a little tempting to assume that popular taste had simply drifted away from Mayall's trademark strain of rhythm and blues, and yet the band-leader's affinity for experimentation has always given testimony to his willingness to run with the times. Indeed, 1968 saw the release of both Blues From Laurel Canyon and Bare Wires; unusual masterpieces filtered through a kaleidoscopic tangle of American roots music. The man's earlier material was still more-than relevant, however, a fact to which Looking Back would firmly attest the following year.
Looking Back was originally released by Polydor Records in order to draw together an odd assortment of singles and unreleased sides, most hailing from an earlier era in Mayall's career. From tightly-wound Chicago wailers to rambling slices of back-porch blues, Looking Back ultimately manages to touch on pretty much every facet of Mayall's style. In fact, there are even a few numbers that would not be all that out of place on Laurel Canyon, such as the atmospheric "Jenny," in which Peter Green's reverbed guitar sends out lazy pulses and foreshadows later masterpieces such as "Albatross" and "Heavy Heart." The clickety-clacking "Sitting in the Rain" is more or less exactly what you'd think of looking at the album's fantastic cover, with a choogling electric guitar and thumping bass line accompanied by a trotting drumstick rhythm, while "The Picture on the Wall" is the obligatory country blues cut, with grooving Dobro playing and a typically lazy Mayall vocal.
Most of the material to be found here is more upbeat and rambunctious, however; solid Marquee Club rockers from the height of the British revival. "Blues City Shakedown" rides a fun, heaving guitar figure as Mayall lets his amplified harmonica rip. Recordings of the blues standards "Stormy Monday," "It Hurts Me Too" and "Double Trouble" are all righteously tackled – in all honesty you could hardly ask for a better interpreter on these songs. Between the crack ensembles assembled here and Mayall's enviable talents as both bandleader and musician, these otherwise-overworked tunes are given fresh life. The instruments eschew just enough blues conventions and cliches to keep the train rolling all the way down the the end of the track. Dig the weird, warbled vocals on the latter cut, potentially bordering on the psychedelic but far too raw to fit in any one bag. Hell, there's a lot to digest here, and it's easy to see why it was Mayall's groups that kept young musicians in England and the States on their toes and so  hungry to learn the trade back in the day.
So waste no time, go and check this one out! Deram Records has managed to keep Looking Back in print, and though it is technically only available as a British import it ain't going to set you back any more than a domestic release would. The album cover may make it worthwhile to find a full-sized vinyl copy, however, and with this kind of music in the grooves its hard not to be pushed towards investing in the real deal. If there's any extra selling point needed, might it be that I've heard said that the guitar solo on "Stormy Monday" is one of Eric Clapton's all time bests? Surely we have some thoughts there.
mp3: So Many Roads
mp3: Sitting In the Rain
Original | 1969 | Deram | search ebay ]
😀 Reissue | Universal | buy here ]