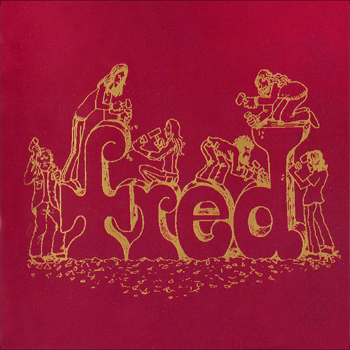 The band Fred emerged out of a late-sixties, rural Pennsylvania university scene with a unique sound born not only from its laid-back surroundings, but from a rather heady record collection spanning everything from The Band to the Mahavishnu Orchestra. Though they were only around for a couple years before dissolving into the Lost Annals of Forgotten Music You've Probably Never Head About, they managed to record a series of testaments to their musical development that have stood the test of time. The first of these, the dopily self-titled Fred, is definitely the crown jewel of the lot, and captures the band in a beautiful, early stage of development in which they are still experimenting at blending their eclectic interests under the spell of their mellow surroundings.
Perhaps nowhere is the band's catholic tastes more in evidence than in the opening number, the cryptically entitled "Four Evenings." Everything here swirls and meanders, but all around a central point. I have never been one for what is generally known as "progressive rock," but Fred manages to borrow certain elements from that emerging genre and incorporate them seamlessly into a group sound that is clearly grounded in American country, blues and folk music (it doesn't take much to identify the influence of ye olde favorites Crosby, Stills and Nash on their vocal harmonies, that's for sure). The searing violin work never comes across as musically exhibitionist, or as one of those cliched attempts at transforming a collection of simple little rock and roll songs into some more respectable/bourgeoisie form of "high art." Rather, the instrument serves as an accent where it is needed, and is not afraid to make itself scarce when it is not.
Perhaps a good reference point to give would be the British rock group Mighty Baby, who were in the process of cutting their excellent Jug of Love record. Both recordings manage to fuse a deep sense of popular aesthetics and traditional musical forms with innovative musical virtuosity and daring. Fred does not engage in the same measure of lengthy improvisations, but more than makes up for this by penning a series of beautiful (albeit surreal) ballads, such as "Soft Fisherman" and "Salvation Lady," the latter of which includes a tasteful example of the aforementioned violin work. The longest piece here, the seven minute space odyssey "Wind Words," is a pretty odd composition, and is perhaps the closest that Fred comes to jazz-fusion territory, though the gonzo vocal lines and wah-pedal guitar also hint at the Mothers of Invention influence claimed in the record's liner notes.
One would think that such an unusual little nugget of a record would have managed to draw at least a little popular attention in psychedelic circles, but Fred still remains elusive. In fact, the record remained entirely unreleased until 2001, when the German record label World In Sound reissued this collection on both vinyl and compact disc, drawing together what would have otherwise been the group's first record with the aid of several of the original members, who also contribute liner notes. Two additional releases have also seen the light of day, a sophomore album and a live set, both from 1974, but these make the full plunge into prog/jazz-fusion, sadly abandoning most of Fred's hazy, country roots.
mp3: Four Evenings
mp3: A Love Song
😀 Reissue | 2001 | World in Sound | buy from world in sound | amazon ]