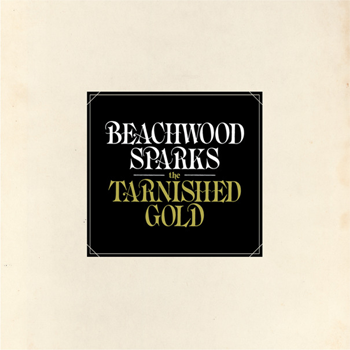 Beachwood Sparks are one of the most accomplished country rock bands on the indie rock scene today.  Influenced by classic LA country rock styles rather than 90s alternative country, the group has been around since the late 1990s.  In The Tarnished Gold Beachwood Sparks have released perhaps their finest album to date, their masterpiece and a return to form (their last album came out 10 years before).
While there are a couple of throw away tracks (see the clumsy "No Queremos Oro"), the album as a whole is uniformly excellent – easily one of the finest country rock releases in the past 20 years.  "Sparks Fly Again," "Mollusk" and "Tarnished Gold" strongly recall the Byrds from their Younger Than Yesterday and Notorious Byrd Brothers albums, as they combine Bakersfield/LA style country with trippy guitar work.  "Goodbye," "Nature's Light" and "Talk About Lonesome" find the group arriving at their own sound (indie folk, rock and country) and are more original than much of what's here (even though what's here is great).  "Water From The Well" one of the album's finest songs, sounds like a classic and should be as it's a great folk rock cut with catchy guitar figures.
The sounds here are soft, laid back and sublime – none of this music rocks hard but it doesn't matter because the quality of the songcraft here outshines the lack of rock n roll music.  Without doubt The Tarnished Gold is one of the finest folk/country/rock/indie albums of 2012.  It's an important album for Beachwood Sparks in that it shows the group's maturity as song writers and performers.  Let's hope Beachwood Sparks continues to release records this good.
mp3: Mollusk
mp3: Water From The Well
Reissue | Subpop | 2012 | buy from amazon ]