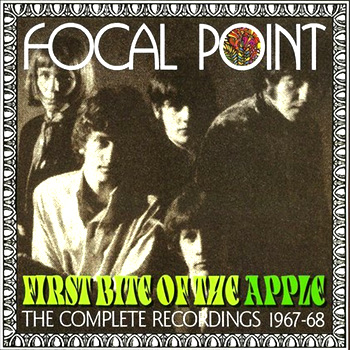 They say it's not what you know but who you know, but sometimes even rubbing shoulders with the absolute royalty of rock can't guarantee you success. Focal Point was a short-lived pop-psych outfit from Liverpool, based around songwriters Paul Tennant and Dave Rhodes who in the summer of 1967 became the first two writers signed to the fledgling Apple label. Tennant claims that he and Rhodes ambushed Paul McCartney walking his dog in Hyde Park and managed to blag an introduction to Apple Music Publishing head honcho Terry Doran. Allegedly the ensuing band's name, Focal Point, was suggested by Brian Epstein. Apple sponsored the band through the rest of '67, housing and equipping them and recording demos of their songs at Apple's makeshift studio at 94 Baker Street with producer Lionel Morton (ex-Four Pennies).
Focal Point signed to Decca's progressive music subsidiary Deram early in 1968. Four songs were re-recorded to professional quality and the first 45 came out soon afterwards, "Love You Forever" b/w "Sycamore Sid". Inexplicably the selected A-side was a sappy, unoriginal love song notable only for its excellent Mellotron accompaniment, and unsurprisingly it tanked chartwise. After unsuccessfully trying to reawaken interest at Apple, the band returned to Liverpool and concentrated on live work, supporting top-flight acts touring the North. By mid-69 they'd gone back to their day jobs.
The B-side of the single however, had been a fine, aggressive slab of hard psych and it appeared on psych compilations from the 1980s onwards, whilst the other Deram tracks appeared on 94 Baker Street, a compilation of sounds by lesser-known acts signed to Apple. In the wake of the new interest in 60s psychedelia erstwhile band members Tennant, Dave Slater and Tim Wells laboriously tracked down the surviving Apple demos and some later stuff they'd recorded independently in Manchester after returning North. The results were assembled along with the Deram tracks as First Bite Of The Apple and finally released to the world in 2005, giving an impression of how a Focal Point album recorded at the tail end of psych in '68 might have sounded.
The Deram tracks and the first Manchester recordings mostly present dreamy soundscapes and lyrics not far from the Toytown end of psych, realised through layered vocal harmonies and sumptuous keyboard washes and all quite presentable. "Miss Sinclair", "Sycamore Sid" and "McKinley Morgan The Deep Sea Diver" are typical Swinging Sixties third-party pen-portraits, the first benefitting from a hard-edged guitar and a flat Syd Barrett-style vocal whlist the last is an enjoyable singalong that could have come from The Teenage Opera via "Yellow Submarine". "Never Never" is a blissed-out flower-power song with great organ work and a powerful walking bass line. "Far Away From Forever" is another languid, introspective soft-psych outing with some pleasant surprises in the chord sequence. Sadly the band took a wrong turning with their later attempts to find commercial success. "Falling Out Of Friends" is a dismal schlock ballad with an ersatz Hollies feel, whilst "Goodbye Forever" was an attempt to write for the Eurovision Song Contest and exhibits all that genre's boom-bang-a-bang awfulness. The Apple demos illustrate how greatly the songs changed in their final realisation; "Miss Sinclair" is played purely on acoustic guitars whilst "Never Never" plonks along on what sounds like a honkytonk piano.
Focal Point has always been keen to lay to rest the assumption that "Sycamore Sid" who lived in a tree house was actually Syd Barrett. In fact it refers to John Mayall, who in his early days as a musician did just that. For a lot more detail on Focal Point and a first-hand history from Paul Tennant visit their page in the excellent Marmalade Skies UK Psych site.
mp3: Sycamore Sid
mp3: McKinley Morgan the Deep Sea Dive

CD Compilation | 2005 | Kissing Spell | buy here ]