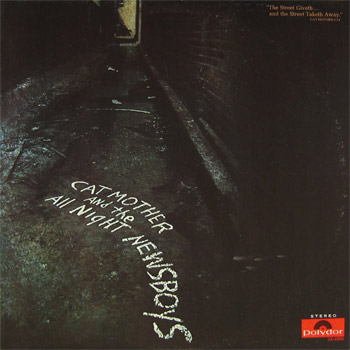 I first bought this 1969 release on Polydor vinyl the following year when I saw a copy for fifteen shillings in a bargain bin in Woolworth's and noticed that it had "produced by Jimi Hendrix and Cat Mother" on the cover. I'd also heard the track "Marie" on John Peel's radio show on Radio One, and been impressed by its bittersweet theme and clever production. On the basis of these two recommendations I handed over the fifteen bob. Well, this tentative bargain turned out to be, IMHO, one of the best rock albums, not just of 1968, which is itself saying something, but EVER, and remains to this day my favourite pop/rock album of all time. 
Despite its quality, and despite the celebrity co-production credit, it sold only modestly in the US and hardly at all in the UK, hence its appearance in Woolies' bargain bin. It's since been re-released twice in CD format, probably just for Hendrix completists (being the only album ever officially known to have been produced by Jimi for another artist), both times in very small quantity production runs, and I was lucky enough to score a copy of the second (2003) CD release whilst it was current and therefore available at a sensible price. 
The five unknown musicians, all vocalists, all writers, and all multi-instrumentalists to session musician standard, produce a string of self-penned songs in a breathtaking variety of styles, from funky riff-rock ("Can You Dance To It") through tramping Steeleye-style electric folk ("Boston Burglar"), sixties Baroque ("Marie") and tongue-in-cheek revivalist rock'n'roll ("Good Old Rock'N'Roll:" the medley covered by The Dave Clark Five) to string-laden hippy-dippy epic ("Bramble Bush") and swamp-tinged, chilled-out instrumental jam ("Track In A"). Musicianship, vocals, and production are faultless throughout. 
When the original album came out the track listing on the sleeve omitted the three final tracks from side 2, namely "Bramble Bush," "Probably Won't" and "Track In A" ("Nebraska Night"). Instead, the seven components of the "Good Old Rock'N'Roll" medley were credited as separate tracks. Oddly, the CD release, with completely redesigned packaging, repeated this mistake. Rest assured, the three aforementioned tracks are all present on the CD as they were on the original vinyl. 
Pending a further CD re-release, if one ever happens, copies are now available only rarely and at collector prices. However, if you happen to chance on a used copy at a sensible price, don't hesitate: snap it up. You won't regret it.
Audio clip: Adobe Flash Player (version 9 or above) is required to play this audio clip. Download the latest version here. You also need to have JavaScript enabled in your browser.
"Boston Burglar"

CD Reissue | 1997 | Polygram | buy amazon ]


Original Vinyl | 1968 | Polydor | search ebay ]