Barclay James Harvest "Their First Album"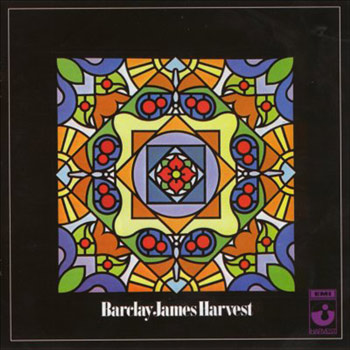 Barclay James Harvest were one of England's most unappreciated, hardluck underground bands throughout the 60's and 70's. They released a handful a good albums and came very close to major stardom.
Often labeled the "poor man's Moody Blues," Barclay James Harvest began their career in or around 1967. In 1968, they released their superb debut single, Early Morning. Early Morning was a confident, mellotron drenched psychedelic ballad that should have gained them notoriety but failed to do so (sounding similar to a really good cut on the Zombie's Odessey and Oracle). Another good prog-psych single followed but did little to enhance their reputation.
In 1970, their outstanding debut was released in a gorgeous stained-glass illustrated sleeve. Barclay James Harvest (self-titled) was absolutely dynamite, opening up with Taking Some Time On. This song has some seriously vicious, punky psychedelic guitar riffs and hard hitting drums. It's a pummeling, devastating rock song and a great way to open up this debut, displaying a mature band with wildly inventive ideas. The next song, Mother Dear is a beautiful acoustic composition augmented with strings that is almost a response to the Move's classic Beautiful Daughter (from Shazaam). Another highlight is The Sun Will Never Shine, a great piece of dramatic progressive psychedelia highlighted by great use of mellotron. The album closes with the 12 minute Dark Now My Sky, which is a sterling example of early progressive rock.
There are no false steps on Barclay James Harvest and this great record never fails to challenge and reward its listeners.
The whole album is absolutely wonderful, finding some kind of middle ground between the Move, psychedelic era Pretty Things and late 60's Procol Harum. A genuinely fantastic album that is not to be missed, pitched half way between the psych and prog eras.
mp3: Taking Some Time On
[ Buy from Amazon
]
Also Recommended