Billy Bremner "Bash!"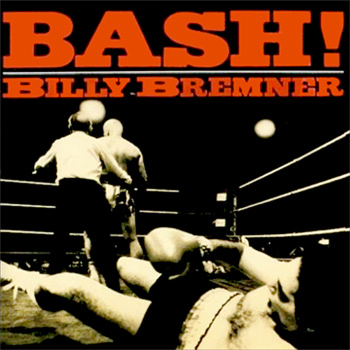 This power-pop gem gives some credence to the theory that every talented sideman's got at least
one fine solo album in him waiting to get out. The rotund little Aberdonian, not to be confused
with the Leeds United midfield legend of the same name, had first found success in the 60s with
Lulu's Luvvers and as a touring guitarist for the Walker Brothers. After involvement with Neil Innes's
Beatles spoof band, the Rutles, Bremner teamed up with Dave Edmunds, Nick Lowe and Terry
Williams as second guitar in Edmunds's formidable touring outfit, Rockpile, featuring on their sole,
excellent album Seconds Of Pleasure as well as on Edmunds's and Lowe's solo albums. Thereafter
his session credits have included such diverse names as the Pretenders, the Refreshments from
Sweden, Sid Griffin's Coal Porters and Rosie Flores, all of whom plus many others having employed
and valued Bremner's intricate guitar style involving dextrous hybrid picking.
In 1984 he found time to put together his solo opus Bash!, which proved that as well as being a
first-rate plank-spanker the boy could write fine songs. Nine of its eleven beautifully-crafted ditties
are jointly credited to Bremner and longtime ally Will Birch, former Kursaal Flyers drummer turned
record producer. Most seem deceptively simple at first listening, but closer examination reveals
clever modulations and rhythm shifts as well as irresistible hooks, wonderfully wry lyrics and concise,
masterful guitar breaks. The songs are driven along by Bremner's twangly, jangly guitar and some
tremendous piano work, mostly from American sessioneer Billy Livsey but also from Brit studio
stalwarts Pete Wingfield and Gavin Povey. As a vocalist Bremner's not exactly in the Freddie Mercury
class, but with judicious use of double-tracking and some finely-built backing harmonies he more
than gets by. Of the originals, "Fire In My Pocket" is a fiery paean to Scottish oil rig workers; "Tired
And Emotional (And Probably Drunk)" is a rollicking, affectionate tribute to the Coaster's fifties
hits (namechecking most of them), and "Loud Music In Cars" is about, well, loud music in cars (and
can be found on my Podcast 22 along with numerous other like-minded waxings). The two covers
are Elvis Costello's "Shatterproof", given a tour-de-force treatment here, and a gentle rendering of
Difford and Tilbrook's "When Love Goes To Sleep" which closes the original platter.
On its first Arista release Bash! proved a welcome relief from the relentless stream of synthesizer
dance-pop that ruled the UK charts in the early eighties, but was too out of step with the trends (and
probably of too high a quality) to sell zillions to the millions. Bremner fell back on sessions, working
in LA and in Nashville for several years before moving to Sweden where he still resides. Somehow
the small Gadfly label out of Burlington, VT, picked up on him and reissued Bash! complete on CD in
2001, along with four earlier single A-sides from his previous label, Stiff, as bonus tracks. His hesitant
solo career has since produced two more albums, A Good Week's Work (1999) and No Ifs, Buts,
Maybes (2006), both recorded with Swedish musicians and put out by Gadfly. Reviews of these imply
that Bash! remains his freshest and best work.
Audio clip: Adobe Flash Player (version 9 or above) is required to play this audio clip. Download the latest version here. You also need to have JavaScript enabled in your browser.
"The Perfect Crime"

CD Reissue | 2001 | Gadfly | buy at amazon ]


Original Vinyl | 1984 | Gadfly | search ebay ]
Also Recommended