Billy Nicholls "Would You Believe"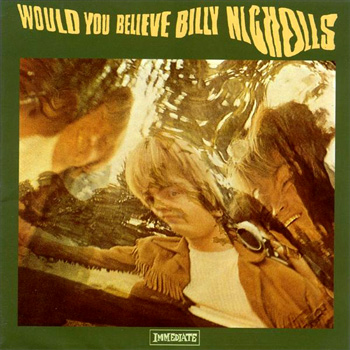 For a man who's enjoyed a solid five-decade membership of the British rock establishment, Billy Nicholls must be one of its least-known figures. From being engaged as a staff songwriter to Andrew Loog Oldham's upstart Immediate Records at the tender age of eighteen, to composer of "I Can't Stop Loving You (Though I Try)", the royalties from the multiple cover versions of which should assure his pension, to MD of the Who's and Pete Townshend's concert activities for the last thirty-odd years, Nicholls has enjoyed a fruitful but surprisingly low-profile relationship with the industry, only recently achieving acclaim as the author of one of psychedelia's great "lost" gems.
The history of Would You Believe is as engaging a tale as that of Nicholls himself. When Oldham fell out with the Stones in 1967 he redirected all his resources into making the youthful Nicholls a star of the psychedelic pop scene. The results were the single "Would You Believe", which hit the racks in January 1968, and the like-titled album that followed in short order. The single has been described as "the most over-produced record of the sixties", and with reason; a modest psych-pop love song, it's swathed in overblown orchestration including baroque strings, harpsichord, banjo (!), tuba (!!), and demented answer-back vocals from Steve Marriott. A trifle late for the high tide of UK psych, it failed to trouble the charts. Unfazed, Oldham and Nicholls pressed on with the album, Nicholls providing a steady stream of similarly well-crafted ditties and a bevy of top-rated London sessionmen providing the backings, thankfully with somewhat more subtlety than on the prototype cut. The album was ready for pressing just as the revelation of Oldham's reckless financial overstretch brought about Immediate's overnight demise, and only about a hundred copies ever made it to wax, most of which somehow surfaced in Sweden. The album became one of the mythical lost albums of the sixties, and original copies now fetch over a grand in GBP.
The record itself was heralded then, and is still often described today, as the English answer to Pet Sounds, with Nicholls's songwriting being compared to Brian Wilson's. This is blatant hype, and the writing certainly doesn't get close, but the album is still the epitome of sixties Britsike, a bunch of fine acid-pop songs rendered with glorious harmonies and superb lysergic arrangements that wouldn't have disgraced George Martin. Put it this way, if you like Ogden's Nut Gone Flake or A Teenage Opera or even The Who Sell Out you'll enjoy this. The sound and the production are sometimes closer to the Stones' "We Love You" / Satanic Majesties output, unsurprising since it was recorded in the same studio with many of the same sessioneers, including the incomparable Nicky Hopkins on assorted keys, though this is – the title track apart – a far more taut and less self-indulgent collection than the Glimmer Twins' psychedelic endeavours. Sundry Small Faces hung around, with Marriott contributing huge fuzz-psych guitar to "Girl From New York". Indeed there's plenty of sonic variety, from the tight structure and Townshend-style telegraph guitar of "London Social Degree" (go figure the acronym there, folks), through the lush Byrdsy 12-string-driven "(Cut And) Come Again" which garnered a cover from Del Shannon,  to the full-on acid rock treatments of "Being Happy" and "It Brings me Down" with its trippy false ending.
After the failure of Would You Believe Nicholls took a back seat from stardom and began a belated apprenticeship in the music industry, initially working on low-profile projects with Ronnie Lane and old acquaintance Townshend whilst gaining an understanding of all its facets that would stand him in good stead for the next forty years. He released nothing new under his own name until 1974's Love Songs, a solid soft-rock venture that deserves a review of its own here, and may well get one. Meanwhile Would You Believe is readily available as a CD reissue, or you can get seven of its eleven songs – plus three outtakes from the album's sessions, which are every bit as good as those eventually used – on Nicholls's fine career retrospective Forever's No Time At All.
Audio clip: Adobe Flash Player (version 9 or above) is required to play this audio clip. Download the latest version here. You also need to have JavaScript enabled in your browser.
"London Social Degree"

Original | 1968 | Immediate | search ebay ]


Anthology | 2005 | Castle | buy here ]
Also Recommended