Bintangs "Genuine Bull"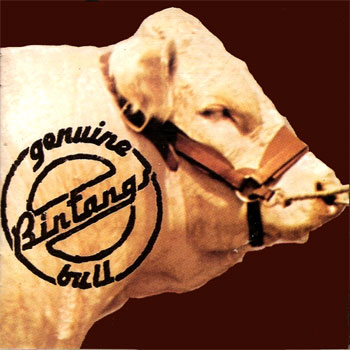 Commonly referred to as the Rolling Stones of the Lowlands, Bintangs are also one of the longest lived Dutch groups (they've been at it since the late 50s).  Prior to Genuine Bull, Bintangs had released 3 albums in the late 60s/early 70s and some fine garage rock/nederbeat singles a bit earlier (seek out 65's "Splendid Sight" and 67's "Please Do Listen").   After years of personnel changes, Bintangs had finally stablized a solid lineup in 1974 and released arguably their finest album to date.
Genuine Bull was first issued in 1975.  Produced by Steve Verroca and recorded in Rockfield Studios in Monmouth, Wales, the lp is usually considered one of the best by a Dutch band.  Exile On Main Street must've been a major inspiration for these guys but I also hear, more distantly, the primitive, tribal sounds of Captain Beefheart and Dr. John etched deep within Genuine Bull's grooves (another point of reference: Roy Loney and the Flamin' Groovies).  The album's foundation is blues-rock (a medium Bintangs would never stray from) but this fine lp's tense guitar playing and angst fueled vocals will also appeal to garage-rock and proto punk fans.  The first three tracks of Genuine Bull show off this lean, hard rock attack and the world is a better place for it.    The guitar work on Stone's inspired gem "Hobo Man" is imaginative, "Insight Inside Out" is a raw garage rock/hard rock shouter, and "Agnes Grey," one of the LP's finest numbers, is downright epic.  Other tracks such as "New Orleans, New Orleans" and "Biyou Woman" stand out for their evil hoodoo swamp rock thang.   And while the latter description might sound strange knowing this band hails from the Netherlands,  Bintangs make their odd stew of American roots music work for them in spades.  Also of note is "Do John," another swampy rhythm & blues number with a killer Bo Diddley beat, greasy harp and stellar guitar solos.   Genuine Bull is loaded with great moments like these; there's plenty of character to be found here.
Overall, I can't imagine anyone complaining about this group's delivery.  Bintangs' songwriting is very solid; the musicianship while reckless in a Rolling Stones/Faces manner, is still very impressive at heart, showing off lots of skill and talent.   Groups from the Netherlands always had a knack for mutating American blues and rock n roll traditions into something original and bracing.  Had the Rolling Stones released a record like this in 1975 it would have been seen as a blessing.  Genuine Bull is a much better album than It's Only Rock N Roll or Black And Blue and stays true to rock n roll's roots whereas the Rolling Stones of the mid 70s were studio slick and formulaic.
Bintangs have never really received their due.  It took almost 25 years for Genuine Bull to be reissued for the first time in 1999 (on cd).   The 2009 deluxe version (double disc) by Corazong is highly recommended as it includes tons of extra tracks and rarities.  So if you're into pure rock n roll, ballsy, bluesy and decadent, check this great album out.
Audio clip: Adobe Flash Player (version 9 or above) is required to play this audio clip. Download the latest version here. You also need to have JavaScript enabled in your browser.
"Hobo Man"

MP3 Album | 2009 | Corazong | download ]


Original Vinyl | 1975 | search ebay ]


Spotify link | listen ]
Also Recommended