Blind Faith "Blind Faith"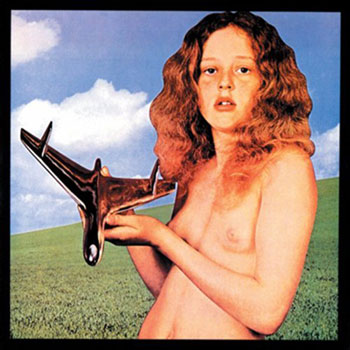 The story of Blind Faith – was ever such a star-crossed project more appropriately named? – is so thoroughly documented that there's no need to elaborate upon it here. (For those around but inexplicably absent from Planet Rock during 1969, and for those then unborn, the excellent booklet in this CD provides a concise and honest history.) Objective examinations of the band's music, however, are thinner on the ground.
In June 1969, fired by the blaring press announcements of Blind Faith's formation, I hitch-hiked to London's Hyde Park to see the free concert that would prove to be their only UK appearance. Far smaller than the hype, of course, the performance drew mixed reviews, but I recall being well enough impressed by the quality songs with Steve Winwood's solid, soulful fronting on vocal and Fender Rhodes and Eric Clapton's uncharacteristically diffident but technically faultless guitar playing. On encountering the film of the show on TV almost exactly forty years later, I found no reason to change my mind.
When the LP was announced I was early in the queue. When it proved to be the first album to be released in the UK in stereo only, I had to purchase a stereo-compatible tone arm and cartridge and fit them to my old mono record player simply to accommodate the new purchase. I was impressed with the record then, and remain so today. I'm well aware that this is not a universal view, and will read comments to this post with interest.
Of the original six tracks, Winwood's "Had To Cry Today" and Clapton's "Presence Of The Lord" are rock music of the highest quality, and feature Steve's voice and Eric's guitar at their absolute zenith. A younger Clapton once said that his ambition was to make an audience cry with just one note; the final bend of his solo on "Presence" damn nearly makes it happen. "Can't Find My Way Home" is a charming unplugged ensemble rendition spoilt only by rather obtrusive cymbal splashes from  Ginger Baker – the only blemish on an otherwise excellent Jimmy Miller production –  whilst Baker's own "Do What You Like" stands comparison with Steely Dan's "Do It Again" in its rambling linear structure and funky feel. The weakest offering, "Sea Of Joy," is rescued by a superbly melodic violin solo from Rick Grech. The compositional strength of the tracks is undeniable; "Had To Cry Today" was strong enough to justify covering by Joe Bonamassa as the title track of his album, whilst Faith's tasteful reinvention of Buddy Holly's "Well All Right" was covered almost verbatim by Carlos Santana.
The original 35-minute vinyl album may have represented just about all the quality material Faith had to offer, but there was no filler. By contrast the latest reissue CD, the "deluxe" 2-CD version, includes as bonus tracks several alternative (and inferior) versions of the original songs, a couple of other songs not deemed (quite rightly) strong enough to release first time round, and a second discful of rehearsal jams of historic interest only. New converts should concentrate on the first six tracks here, and also if possible seek out the DVD of the Hyde Park concert, which is by no means faultless as cinema but is an above-average record of a historic sixties concert.
Audio clip: Adobe Flash Player (version 9 or above) is required to play this audio clip. Download the latest version here. You also need to have JavaScript enabled in your browser.
"Presence of the Lord"

CD Reissue | 2001 | Polydor | amazon ]


Original Vinyl |  1969 | Atco | ebay ]


Spotify link | listen ]
Also Recommended