Blossom Toes "We Are Ever So Clean"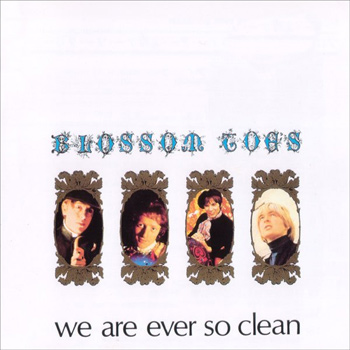 Variously described as "the finest popsike album ever recorded", "a quirky look at British life in the late 60s with tea and cakes on the lawn, budgerigars and balloons wafting in the breeze" and "Georgio Gomelsky's Lonely Hearts Club Band", you might conclude that this definitive whimsy-psych opus was a premeditated attempt to upstage the Fabs and the Kinks at their own game by a similarly professional outfit. In fact it was the more-or-less accidental result of a dissolute R'n'B covers band ingesting lots of pharmaceuticals, reluctantly writing their own material, being impelled by their uber-persuasive manager/producer to come up with potential hit singles, and witnessing their lyrically quirky but musically straightforward guitar-based acid-pop songs being swathed in florid orchestral overdubs by their record company. All of which may sound like a recipe for a ragged, stylistic disaster of an album, and track titles like "The Remarkable Saga Of The Frozen Dog", "I Will Bring You This And That" and "The Intrepid Balloonist's Handbook, Volume 1" didn't help to dispel that initial impression. Released a shade too late for the Summer Of Love and receiving a thoroughly polarised critical reception, it collapsed commercially. However, it gradually established a reputation as one of the great "lost" psych artefacts, was repeatedly bootlegged over decades for the benefit of aficionados, and has continued to attract enthusiasm and opprobrium in equal measures to this day. I like it a lot; you make up your own mind.
Brian Godding (vcl, gtr, keys), Jim Cregan (gtr, vcl), Brian Belshaw (bs, vcl) and Kevin Westlake (drs, vcl) had been the Ingoes, tramping the well-worn path from Hamburg beat band via freakbeat to R'n'B and soul covers. Picked up by former Stones/Yardbirds svengali Gomelsky and re-christened Blossom Toes, they signed to Polydor and worked up a clutch of self-written tunes with lysergic lyrics, spare, brittle backings and dense harmony vocals in the Ivy League vein. These were then subjected, against the band's wishes, to various degrees of post-production orchestration, some tracks being left more or less unadorned while others were totally swaddled in brass bands, string quartets, plaintive woodwinds and what-have-you.
The leadoff "Look At Me I'm You" is typically everything-but-the-kitchen-sink, featuring a "Taxman"-ish riff with dense harmonies, backwards guitars, scat singing, a full brass band on the bridge and a fake scratched-record-stick on the outro. The thoroughly excellent near-caricature of definitive Britsike, "I'll Be Late For Tea", is well-known and has been much anthologised. "Frozen Dog" is a piece of wigged-out craziness with a stomping beat overlaid with deliberately formless, tuneless backing vocals and barking noises – in fact "barking" in every sense. "Telegram Tuesday" comes nearest to the original concept, a fully-formed lilting pop song with Byrdsy guitars and trademark rich harmonies, and for once no orchestral interference. The joyful marching rhythm and hysterical ironic laughter of "People Of The Royal Parks" mask a vituperative attack on the Establishment in the form of a diatribe against po-faced park keepers, government ministers and other officious killjoys. "Mrs Murphy's Budgerigar" is classic whimsy, chronicling the misadventures of the said bird with enormously over-egged decoration by harpsichord, strings and piccolo trumpet. "Balloonist's Handbook" is a demented rumba with organ and accordion accompaniment, its rhythm and whacked-out theatrical vocal delivery more than slightly hinting at the Bonzos. For good measure, the closing "Track For Speedy Freaks" is a whirling eighty-second collage of snippets from all the preceding tracks, while between those tracks come brief sotto voce interludes: random speech, coughing, operatic singing and bits of dialogue that sound like cuts from The Goon Show.
After the album bombed the band replaced drummer Westlake with multi-instrumentalist Poli Palmer and released a second album, If Only For A Moment, almost two years later. This was a more conventional prog-rock offering but suffered a similar fate, and Blossom Toes called it a day soon after. Godding enjoyed a subsequent career with various jazz-rock and avant-garde outfits including Centipede and Mike Westbrook's band, whilst Cregan and Palmer wound up in the highly-successful prog-rock outfit Family. We Are Ever So Clean eventually found a kosher CD re-release on Sunbeam in 2007, its fifteen original tracks being augmented by an interesting assortment of un-orchestrated versions, live takes and unused demos.
Audio clip: Adobe Flash Player (version 9 or above) is required to play this audio clip. Download the latest version here. You also need to have JavaScript enabled in your browser.
"Look at Me I'm You"

Original | 1967 | Polydor | search ebay ]


Reissue | 2007 | Sunbeam | buy here ]


Spotify link | listen ]
Also Recommended