Bobb Trimble "Iron Curtain Innocence"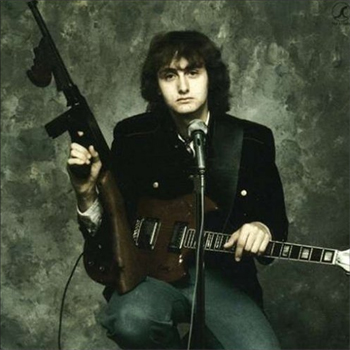 There is nobody quite like Bobb Trimble in the world of rock n roll. Trimble released two great underappreciated records in the early 80s (private press – real lo-fi). His vision is very deep, personal, and absolutely original with a strong outsider, late night feel. His music was totally out of sync with the times but Bobb waved the psych flag high and proud and managed to find an audience among 60s record collectors.
The sound of Iron Curtain Innocence is unique, but somehow timeless, and it defies much of the genre categorization I have often found simple. The songcraft takes a few spins to rest comfortably in your head (music that wants to belong deep in your psyche), but when they take hold they root in deep.
Bobb seems to craft his albums around one song; in this case it's "One Mile From Heaven." This track recently got to me in a way like my all time favorite, "God Only Knows." It's not the spiritual references, I don't think, though both tracks indeed have ethereal qualities. It's just one of those records that makes you want to cry for no reason at all, when it hits you in the right spot, at the right time.
On Bobb's 1982 Harvest of Dreams it's "Premonitions." Both songs appear twice at the beginning and end of side 1, with separate, but similar versions. The effect of this technique is quite grabbing, and it gets you diving back into Bobb's world whenever you get the chance.
Some consider Harvest of Dreams the greatest psych album after 1975. It's full of beautiful dreamy tunes like "Take Me Home Vienna" and the killer opener "Premonitions – The Fantasy." "Selling Me Short" is superb, and it's exciting to hear Trimble explode in anger nearing the song's chaotic fuzzy ending.
Before these records saw release on Secretly Canadian, they had been bootlegged by Radioactive Records, also known as Fallout Records (please do not buy Fallout or Radioactive!). But thanks to the work of good people like Kris Thompson and Douglas McGowan both of Bobb's albums are finally legitimately available in CD and vinyl reissues. Excellent stuff and highly recommended.
Audio clip: Adobe Flash Player (version 9 or above) is required to play this audio clip. Download the latest version here. You also need to have JavaScript enabled in your browser.
"One Mile From Heaven (Short Version)"
Aside: Is it just me, or are there Wizard of Oz references sprinkled throughout this record?

CD Reissue: 2007 Secretly Canadian | Buy From SC | Buy From Amazon
]


Vinyl Reissue (w/ free digital download) | Buy From SC | Search eBay ]
"Galilean Boy" by Bobb Trimble and the Crippled Dog Band (live)
[youtube]http://www.youtube.com/watch?v=cZ8So5OAU8w[/youtube]
Also Recommended