Booker T. & the MG's "In the Christmas Spirit"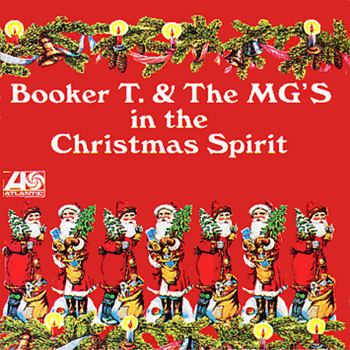 I love mining the cracks and depths of the rock era, hunting down lost or obscure gems, but I'm not about to put some rare junk or novelty crap on my Christmas mix. The holidays are a time for family entertainment and this jock aims to please the crowd. Mostly, I'm looking for classic tracks with the elusive "christmas sound," that special magic that separates rushed covers of holiday standards from the true "christmas canon."
Year after year, Booker T.'s In The Christmas Spirit is where it's at. Famous as the legendary house band at Stax, the MG's defined the sound of southern soul backing records for the likes of Sam & Dave, Wilson Pickett, and Otis Redding. Even likely the men behind some of the artists on Atlantic's classic Soul Christmas, cutting classic grooves like Otis's "Merry Christmas Baby."
This collection of souled-up instrumentals hits the pocket for me, and it's versatile as a party record or lite background music. Easily essential this time of year.
Other perfect holiday records to recommend include Phil Spector's A Christmas Gift For You, The Beach Boys Christmas Album, the original Soul Christmas, and Vince Guaraldi's A Charlie Brown Christmas.
Audio clip: Adobe Flash Player (version 9 or above) is required to play this audio clip. Download the latest version here. You also need to have JavaScript enabled in your browser.
"Jingle Bells"

Vinyl Reissue | 2009 | Sundazed | buy at sundazed ]
Q. What records are on your Christmas mix?
Also Recommended