Brave Belt "I"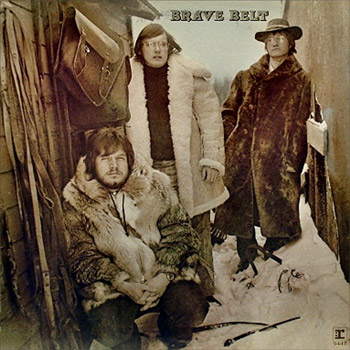 Randy Bachman had abruptly quit the Guess Who in the midst of a winning streak.  After two classic albums, Canned Wheat and American Woman, and a host of excellent pop/hard rock singles he decided to get up and leave.  Rock critics panned Bachman's decision to leave this very successful pop group and more often than not, wrote off this fine debut album from Brave Belt.  Brave Belt was a conscious attempt to create something a bit more experimental and less hard rock oriented.  It was the first time Randy Bachman (lead guitar and bass) and Chad Allen (vocals, rhythm guitar, mandolin) had gotten together on record since 1966's classic It's Time album.  Allan was a great vocalist and one of rock's truly underrated talents.  The remaining members of Brave Belt were Bob Bachman on drums and Ron Holldorson on pedal steel guitar.
The first lp was recorded in Winnipeg and released off RCA in 1971.  Gone was the hard rock stylings of American Woman or the breezy jazz-pop of Undun.  Instead the group offered up a brilliant mix of quiet country-rock and psychedelia.   Both of these worlds collided on the excellent album opener "Crazy Arms, Crazy Eyes."  This track rocks pretty hard with its Bo Diddley-like beat, attractive pedal steel work and phased drums – one couldn't ask for a better debut opener.  Personal numbers such as "It's Over" and "French Kiss" were written by a revived Bachman/Allan partnership.  These tracks along with the more country oriented material recalled the early work of Neil Young or Poco's reflective numbers on their great debut lp.  "Wandering Fantasy Girl" and "Scarecrow" are a bit more psychedelic in nature with lots of Bachman fuzztone and a nice, druggy studio production.  Another track, "I Am The Man," is an intoxicating, complex masterpiece with psychedelic guitar work reminiscent of late 60s George Harrison and even some creative mandolin flourishes that give the song an exotic flavor.  The album is great all the way thru though Guess Who fans may be disappointed if they come here looking for a hard rock blowout.
Brave Belt would record one more solid album in 1972 before giving way to Bachman-Turner Overdrive.  Randy Bachman once summarized his experience with Brave Belt: "Too much garbage had been laid down about me that Brave Belt never really had a chance.  Radio stations wouldn't play us, magazines wouldn't do stories on us. "  Rock journalist Larry LeBlanc also added, "Randy got a real shellacking from the music press when he left the Guess Who."  Many rock fans refer to Brave Belt's music as Randy Bachman's bridge from the Guess Who to Bachman-Turner Overdrive.  It's much more than that though, as this album is arguably more consistent then either of those groups' best work.  Brave Belt is more experimental and has definitely earned it's "lost classic" status over time.  Both albums have been reissued in the past though 2009's Wounded Bird twofer is the easiest way to obtain these recordings.  Highly Recommended.
Audio clip: Adobe Flash Player (version 9 or above) is required to play this audio clip. Download the latest version here. You also need to have JavaScript enabled in your browser.
"French Kiss"
The Guess Who featuring Randy Bachman and Chad Allan (1965):
mp3: I'd Rather Be Alone

CD Reissue | 2009 | Wounded Bird | 2fer | amazon
]


Original Vinyl | 1971 | Reprise | ebay ]


Spotify link | listen ]
Also Recommended