Bread "Bread"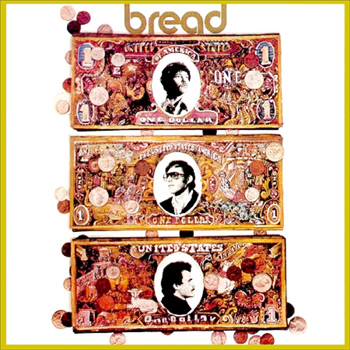 Bread were known as one of the premier 70s soft rock acts and rightly so, as they produced some of the best music that genre has to offer.  This debut, released by Elektra in 1969, is much different than those early 70s records.  Bread, is closer to Crosby, Stills and Nash's debut album (also from 1969), combining Buffalo Springfield and Byrds folk-rock influences with a Brit pop feel that recalls late period Beatles or Paul McCartney's early solo work.
The album is an underrated delight.  Every song is rock solid, displaying a diverse range of popular rock styles from the time, such as lite psych, folk-rock, country-rock and soft pop.  David Gates is usually thought of as the master craftsmen in Bread but Robb Royer and James Griffin contribute fine material to Bread.  Songs like the powerful "Move Over" (there's fiddle on this Griffin penned classic) suggest Bread could rock hard when they wanted to while other great tracks like "London Bridge" are dressed up with moog synthesizer – it's all about the fine production details on this album.  "Could I," "You Can't Measure The Cost," and "Look At Me" are pop gems, displaying leftover psych residuals from the previous two years.   "Don't Shut Me Out," along with many of the album's songs, seemed to have obvious radio potential – hooks galore, strong songwriting and lovely harmonies.
Vinyl copies are fairly easy to find.  Bread can only be bought on cd as part of a 5 disc box set which will set you back about $20 (not a bad deal at all).  One of the great debuts from 1969 – don't miss out on this one.
Audio clip: Adobe Flash Player (version 9 or above) is required to play this audio clip. Download the latest version here. You also need to have JavaScript enabled in your browser.
"Move Over"

Original | 1969 | Elektra | search ebay ]


MP3 Album | download here ]


Spotify link | listen ]
Also Recommended