Brian Eno "Another Green World"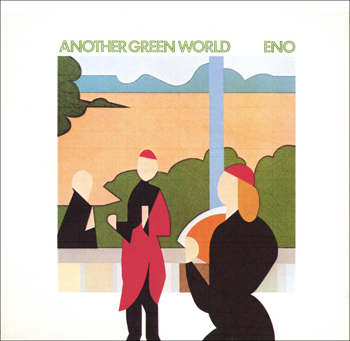 There are four Eno albums that sort-of go together. These are his first four solo albums after leaving Roxy Music: Here Come The Warm Jets (1973), Taking Tiger Mountain (By Strategy) (1974), Another Green World (1975), and Before & After Science (1977). I could have chosen any one of these recently remastered digipak albums to review today (and probably will get to them all soon enough), but Another Green World jumps out at me first every time.
Don't expect ambient, experimental, exclusively electronic non-music or anything you have previously associated with Eno's incredible body of work. This album, as well as the others listed here, is part of Eno's pop-rock masterpiece phase, at once a listenable rock album and a piece of certifiable Eno art.
The first time I heard this record though, I was really digging it, until Brian started singing. But rest assured, you will learn to love and appreciate his vocal style, as much as you will learn to love each "sound painting" arranged within this perfect album.
Also of note, this album synchronizes excellently (a la Dark Side of the Rainbow) with the 1984 Disney film Where The Toys Come From. I forget exactly which "roar of the lion" to sync them up with, but that doesn't really matter.
Audio clip: Adobe Flash Player (version 9 or above) is required to play this audio clip. Download the latest version here. You also need to have JavaScript enabled in your browser.
"Another Green World"
Also Recommended