Buffalo Springfield "Again"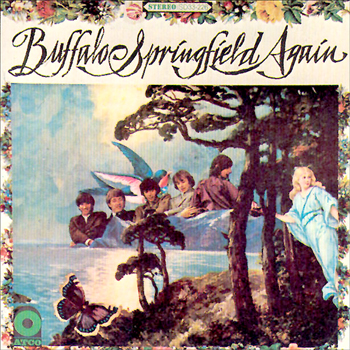 Buffalo Springfield recorded three albums from 1966-1968 and the first two are essentials. Again is their 2nd and affords some improvement over their near perfect debut. This is the group that launched the careers of Stephen Stills and Neil Young; Buffalo Springfield is a must for fans of Manassas, the Byrds, CS&N, Neil Young. At times, it's almost as if they were all the same band.
Neil's "Mr. Soul" is like the Byrds and the Stones with Neil Young on vocals, a great song along with the orchestral "Expecting To Fly." "Bluebird" sounds like a CS&N preview with its hard riffin' acoustic guitar lead, solidified by its postscript: an acoustic 'take two' on the track, genius. "Hung Upside Down" is a great track that caught the attention of Colin Blunstone (check out his rendition here). "Rock and Roll Woman" is total Manassas preview material and Neil closes it up with the lovely "Broken Arrow," maybe the nicest track (and certainly most interesting, with its sound collages) on here. There are different directions on Again, but its all still cohesive enough to contain some magic.
What really drives this record for me is the rhythm section. That plucky electric bass and the punchy airless drums, it's just the sound you want from the rhythm section on any rock record. If all you know of Buffalo Springfield is "For What It's Worth," get your shit together and find this record. (Don't settle for Retrospective.)
Audio clip: Adobe Flash Player (version 9 or above) is required to play this audio clip. Download the latest version here. You also need to have JavaScript enabled in your browser.
"Bluebird"
[ only $5 or 10 at Amazon
]
Also Recommended