Captain Beefheart & His Magic Band "Safe as Milk"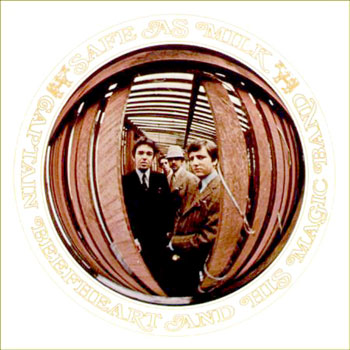 We'll be coming back to the more wild Beefheart stuff here in the future, but I thought we should start here. In case you don't already know, the Captain's got a hell of a voice. Kind of a Howlin' Wolf tribute and Tom Waits rival. The best part of his singing, though, are the bits that squeak out in between words; his breathing has a sonic quality all its own.
Safe as Milk is a real winner, a very accessible debut for a band whose later album, Trout Mask Replica
, tends to confuse a lot of first time listeners. But this is before the days of Zappa, Antennae Jimmy Semens, and Zoot Horn Rollo and features a straighter, tighter Magic Band.
Not to say it won't blow you away. Apparently this one was John Lennon's favorite album in 1967. The first track hooks any listener, and nobody can ignore that overpowering vocal. Kickass guitar lines and tight rhythm n' blues. But a hint of psychedelia; just wait til they get to Trout Mask! Try this one first, it's a winner!
Also of certain note, in the movie, High Fidelity, Jack Black won't sell a record to this poor guy who isn't cool enough for him, but he sells it for $40 to his friend when he leaves. This is that record.
Audio clip: Adobe Flash Player (version 9 or above) is required to play this audio clip. Download the latest version here. You also need to have JavaScript enabled in your browser.

"Plastic Factory"
Abba Zaba!
Also Recommended