Chip Taylor "This Side of the Big River"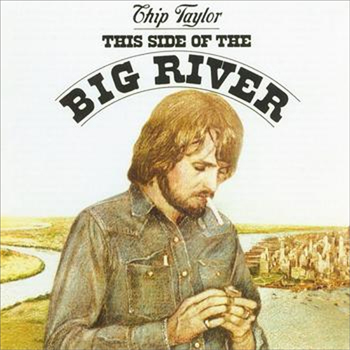 Chip Taylor's This Side of the Big River is probably one of the best underground country albums you've never heard. Though the record plays things pretty straight for its genre, it also boasts some pretty solid underground credentials. Not only is Chip Taylor the songwriter behind such Troggs classics as "Wild Thing" and "Any Way That You Want Me" (not to mention "Try," the great kozmik soul shouter made famous by Janis Joplin), but he's also the brother of the Midnight Cowboy himself, actor Jon Voight. In addition, three cuts on Big River feature Chip's friend Sandy Bull on oud, which makes the album about as hip as Nashville could get back in the days of '74.
As previously stated, however, the music here is country music, no matter how you cut it. Taylor never emphasizes his rock and roll background, instead letting his warm and introspective lyrics drift across lazy, pedal-steel-driven arrangements. One could say that this is the thinking man's honky-tonk music, which may not be too far from the truth despite the unwelcome elitist connotations that label implies. At times Big River is definitely reminiscent of folks like John Prine or Billie Joe Shaver. In fact, there are a lot of signs that Taylor knew his music – some of his singing on the R&B-influenced "I've Been Tied" is straight out of the Gram Parsons handbook.
As an album This Side of the Big River is actually pieced together from assorted studio recordings and tracks cut live on a New Hampshire radio broadcast, though you'd hardly notice the difference without the occasional light applause. Of the latter, Taylor's cover of Johnny Cash's rollicking "Big River" is a highlight, despite the occasional presence of an extremely annoying electric piano. Apparently this take on the song impressed its author enough to persuade him to personally promote the album to radio stations – albeit to little avail.
As the story goes, Warner Brothers Records had originally signed Taylor as a rock and roll artist, so when he started recording country they had no idea what to do about promotion. Hell, up until his first record for the label, Chip Taylor's Last Chance, they didn't even have a proper country music division! Fortunately for us though, the beautiful people over at Collector's Choice Music have given the album a well-deserved second chance and reissued it with some insightful liner notes by noted music scholar Richie Unterberger.
Audio clip: Adobe Flash Player (version 9 or above) is required to play this audio clip. Download the latest version here. You also need to have JavaScript enabled in your browser.
"I've Been Tied"

Reissue | 2007 | Collector's Choice | buy here ]


Original | 1975 | Warner Brothers | search ebay ]
Also Recommended