Classic Gear: Harpsichord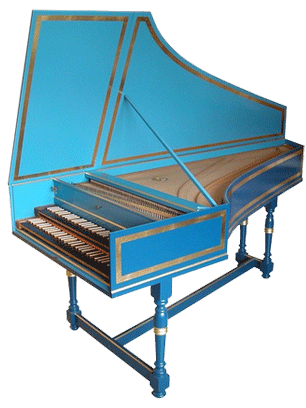 It's by no means an essential piece to the quintessential rock band, nonetheless the harpsichord, dating from the 1500s and the predecessor to the piano, served a distinct sound on plenty of essential late sixties records, earning it "classic" status, and the first acoustic spot in our ongoing series on classic gear.
The first difference you'll notice from the piano is the inverted keys. The black and white keys are reversed (a sleek effect, almost as sexy as grey and white). The sonic difference from the piano results from the way the keyboard vibrates each string. Piano keys "hammer" the string, while harpsichords "pluck." This plucking action gives the harpsichord the extra bright tinny sound so often associated with classical music and what would become known as "baroque pop."
Examples
Besides the standards (Yardbirds "For Your Love;" Stones "Lady Jane," "Yesterday's Papers," "In Another Land;" Kinks "Two Sisters," "Session Man;" Beatles  "Lucy In The Sky," "Because" (actually a Baldwin Electric Harpsichord) and "In My Life" emulates the harpsichord with a sped up piano solo — find more here) below are a few examples that put this 'ancient' instrument to good use in the 60s:
Lords of 'baroque pop,' the Left Banke frequently rocked the harpsichord, decorating many of their gems with that other-timely sound. The Left Banke Anthology comes highly recommended.
Audio clip: Adobe Flash Player (version 9 or above) is required to play this audio clip. Download the latest version here. You also need to have JavaScript enabled in your browser.
The Left Banke – I Haven't Got The Nerve
The End might have borrowed the Stones' harpsichord for the Introspection sessions, which were produced by Bill Wyman. This performance is from legendary session man, Nicky Hopkins (the subject, and harpsichordist, of Ray Davies' "Session Man" indeed).
Audio clip: Adobe Flash Player (version 9 or above) is required to play this audio clip. Download the latest version here. You also need to have JavaScript enabled in your browser.
The End – Loving, Sacred Loving
Curt Boettcher set out to make the greatest album of all time when he finally got a chance to record Begin in 1968. Harpsichord gets used and abused on this powerhouse leadoff, an unbelievable track for all first timers:
Audio clip: Adobe Flash Player (version 9 or above) is required to play this audio clip. Download the latest version here. You also need to have JavaScript enabled in your browser.
The Millennium – Prelude
And of course Rod Argent and the Zombos, they used harpsichord as well as piano, organ, harmonium, and Mellotron all over Odessey and Oracle. Come to think of it, it's hard to find a psychedelic masterpiece without harpsichord on there somewhere!
Audio clip: Adobe Flash Player (version 9 or above) is required to play this audio clip. Download the latest version here. You also need to have JavaScript enabled in your browser.
The Zombies – I Want Her She Wants Me
Or… if you're lookin for the real deal…
Glenn Gould – Prelude and Fugue in E Major (Bach)

Also Recommended