Cold Blood "Cold Blood"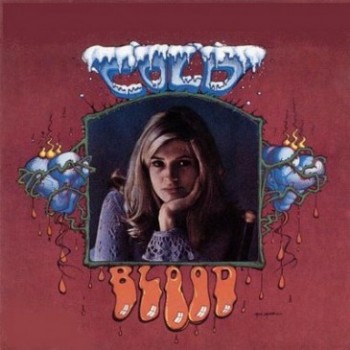 San Francisco/East Bay area's Cold Blood were one of the first bands of its kind, combining a smooth blend of psych, horn rock, jazz, soul, and R&B with front woman Lydia Pense's Janis Joplin-esque vocal growlings.  People have often compared the group to the more well-known Californian outfit Tower Of Power, and with good reason.  Even so, Cold Blood have held their own ground and place in rock history, because of their energetic live shows, and the quality of material on their albums.  In 1969, Bill Graham signed the band and made them regulars at his legendary Fillmore West auditorium in San Francisco.  Their fan base quickly grew, and soon the band landed in the studio to record their eponymous debut, Cold Blood.
The album starts with the gospel-feel of "I Wish I Knew How It Would Feel To Be Free", and has become one of my all-time favorite opening tracks of any album.  The song captures a longing for personal freedom and independence, which was a major dream for the people of the 1960's dealing with civil rights, women's liberation, and the Vietnam war.  Lydia Pense's powerful and emotional vocals shine on this one, perhaps owing a bit more to Aretha Franklin than Janis Joplin.  Their rocked-up, funkier version of Sam & Dave's "You Got Me Hummin'" could have been a huge hit single with the right promotion, and contains some VERY flashy bass work, courtesy of Rod Ellicott.  Their cover of Muddy Waters'  "I Just Want To Make Love To You", is one of the best cover versions of the song, with the horn section just soaring, and the whole feel of the song positively oozing with passion and sexual desire.  The album ends with the semi-obscure Bobby Parker early soul classic "Watch Your Step".  The saxophone reaches almost an other-worldly plateau, with a super funkified rhythm backing that leaves the listener with sublime aural satisfaction.
Cold Blood went through various incarnations, with several members passing away or moving on to other projects.  The band finally called it quits in the 1970s, with Lydia Pense recording solo material, and then deciding to retire from music indefinitely in the 1980s to raise her daughter.  The band reformed, have a strong cult following, and still continue to perform and wow audiences.
Cold Blood is so chocked full of great songs that it was very difficult to try and pick the "very best" to review.  Truth be told, this entire album is fantastic.  The original vinyl of the album is surprisingly easy and inexpensive to find on eBay, Discogs.com, etc.  "Oldies" label Collectibles reissued the album in 2001 as a two-album set, paired with their second album Sisyphus, which is also highly recommended.  From a personal standpoint, I'd suggest getting the original vinyl version.  It's one of the best sounding albums, sonically, that I've ever owned, and is almost mandatory to crank to the highest possible volume to get the full experience.  Grab this one if you come across it.
mp3: I Wish I Knew How It Would Feel To Be Free
mp3: Watch Your Step


Original | 1969 | San Francisco | search ebay ]


Reissue | 2001 | Collectables | buy here ]


Spotify link | listen ]
Also Recommended