Cold Sun "Dark Shadows"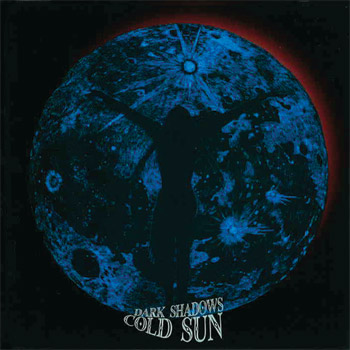 Never seeing an actual release until 1989, Cold Sun is a devastating slab of Texas psych and the sickest of lost gems. I can't say I've ever been so moved by feedback and noise in my life. The long awaited reissue from World In Sound sheds some long due light on this beauty and is one of the best we've seen in 2008.
The record is sometimes referred to as just Cold Sun; years later the band was unofficially renamed Dark Shadows which was printed on the sleeve as a pseudo album title. Interestingly, both names are derived from the same mythology that inspired the band Mu. Many of the details to the Cold Sun story have been lost in the cracks but Patrick the Lama's (Acid Archives) essay is a noble piece of research and comes highly recommended for those interested in the history of this band.
I never thought hard psych could sound gorgeous. The magic of the record, for me, is in Billy Miller's (who wrote most of the material and spearheaded the band) electrified autoharp. This instrument sounds like no other, but I initially mistook it for a distorted Fender Rhodes. The instrument is rarely strummed in the traditional autoharp style but finger-picked like a real harp, the sound full of sustain and grit. Add Tom McGarrigle's stabbing guitar leads, Mike Waugh's deep, dark, progressive bass lines, and Hugh Patton's energy behind the kit and you're hearing everything the third Elevators album needed to be. It's clamorous and peyote-drenched and hard but also tender and beautiful.
The World In Sound reissue has great sound, excellent liners (in which Jello Biafra calls Dark Shadows "the best psychedelic album I know of") and two badass live cuts from 1972. I found the CD available at Heyday Mail Order, but for the LP version you'll have to wait til the end of the month (and fight for it).
Cold Sun fans? Come and testify!
Audio clip: Adobe Flash Player (version 9 or above) is required to play this audio clip. Download the latest version here. You also need to have JavaScript enabled in your browser.
"Here In The Year"

CD Reissue | 2008 | World In Sound | buy from heyday ]


Vinyl Reissue | Coming Soon | go to world in sound ]
Also Recommended