Complex "Complex"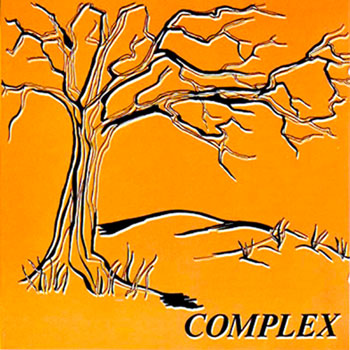 Complex is a super-rare and long-out-of-print holy grail private press classic. Revered by the almighty Acid Archives (they've got trophy photos of it staged next to bottles of fine Scotch!), as "one of the 'Holy Trinity' items of rare British psychedelia (the other two being Dark and Forever Amber)," Complex somehow sounds distinctly like mid-60s American garage rock – so much so that I find its 1970 record date quite hard to believe.
They tear open the album with a fire-breathing combo organ lead;  Funny Feeling is a 3-part tune revealing two factors of the Complex sound – intelligent and endearing compositions filtered through fuzzy, raw energy. Green Eyed Lucy's vibrating bass guitar groove helps strike the balance between blues, soul, and unbridled teenage garage. Gratuitous guitar shredding on Witch's Spell and "sensitive" boppers like Norwegian Butterfly, seemingly written to get the lead singer, whose confident voice is a sweet surprise, some groupie action.  Self Declaration features an epic Iron Butterfly-esque prog-organ solo and throughout the album a distinct and drastically lo-fi sound is present from start to finish.
Then there's my favorite track – the unexpected, wildly out-of-place but somehow perfect Josie. It's a surprise that this group of white suburban kids could pull off a convincing reggae dancehall number, but a joy to hear the squeaky combo organ bouncing along with the ragtag orchestra backing this weird little number.
Complex is a scary kind of record, the rarity and grungy sound are sure to dissuade casual listeners, but seekers will find the sounds much more accessible than the ghastly psychedelic cover implies. It's really just an oldies garage record with soul; you can play it for friends without clearing the room! Begging for a reissue.
Audio clip: Adobe Flash Player (version 9 or above) is required to play this audio clip. Download the latest version here. You also need to have JavaScript enabled in your browser.
"Josie"
Read the full story of Complex at Marmalade Skies.


CD Reissue | Wooden Hill | oop | search ebay ]
Also Recommended