Deep Purple "The Book Of Taliesyn"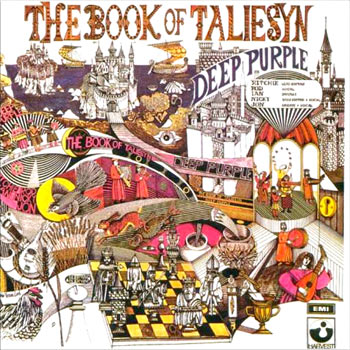 The first incarnation of Deep Purple has tended to be ignored until lately, shaded by the
overwhelming success of Mark II which benefited from a homogeneous (and supremely
timely) musical direction and the outstanding talent of Ian Gillan. By contrast Mark I found
itself at a many-sided crossroads; musically the band was pulled in the conflicting directions
of freakbeat, psychedelia, retro-classical and nascent prog-rock, and perversely it enjoyed
unexpected early adulation in the States whilst remaining virtually unknown in its homeland.
Adverse critical comment of Mark I has only recently begun to ease, as the undoubted
attractions of some of the early works become retrospectively appreciated and the works
themselves remastered and reissued.
Even the beginnings of Purple were artificial, the band being conceived by ex-Searchers
drummer Chris Curtis as Roundabout, an ever-changing musicians' combine, and sponsored
by two London businessmen looking for a purely commercial foothold in the pop market.
The Mark I lineup pulled in diversely-experienced, classically-trained session musicians
Ritchie Blackmore (gtr), Jon Lord (keys) and Ian Paice (drs). Bassist Nick Simper had played
rock'n'roll with Johnny Kidd and Screaming Lord Sutch alongside Blackmore, and vocalist
Rod Evans came with Paice from Mod R'n'B outfit the Maze. A unified direction was unlikely
from the start.
Following the clearly saleable example of Vanilla Fudge, the band developed a set
based largely on grandiose reinterpretations of known hit songs, subjected to Lord's cod-
classical Hammond interludes, Paice's jazzy percussion and Blackmore's unique, manic
style of soloing involving heavy use of his Stratocaster's whammy bar. The first album,
Shades Of Deep Purple, produced an unexpected US hit single with a rollicking cover of
Joe South's "Hush". This led rapidly to a second album and a prestigious support slot to
Cream on the latter's final US tour. Meanwhile, the band couldn't get arrested at home.
The Book Of Taliesyn (pronounced Tal-ee-ess-in) followed the pattern of Shades Of,
expending first-class musicianship over a confusingly diverse mix of styles, most of which
deserves more attention than it's received. "Listen, Learn, Read On" is tautly-constructed
psychedelia with a semi-recitative vocal extolling the virtues of the tome in the album's title
(Taliesyn was the bard at King Arthur's court); Evans's powerful vocal on this belies one
critic's description of him as a "supper-club crooner", although he does display Scott Walker–
ish tendencies on the string-quartet-enhanced ballad "Anthem". "Kentucky Woman" is a
similarly energetic workout on the modest Neil Diamond tune to the earlier "Hush" which
would again feature in the US singles chart. "Wring That Neck" is a stereo-tastic proto-prog
instrumental in which Lord and Blackmore vie for supremacy; it portends the sound of In
Rock and would remain in the live set for years. Pretentious covers of "We Can Work It Out"
and "River Deep, Mountain High" segue out of equally bombastic classical themes in which
Lord displays the same leanings as Keith Emerson without the outrageous stagecraft; this
is the sort of "pomp-rock" material that's reduced Mark I in the eyes of its later heavy-metal
acolytes. Perhaps the best track, "Shield", is a funky, loping offering with an impenetrable
hippie (or possibly sci-fi) lyric, a catchy, almost oriental organ riff, and splendid guitar work
throughout which deserved to be a hit single in its own right.
Home success continued to elude Purple until the collapse of its US label, Tetragrammaton,
forced the band to return home, re-evaluate and regroup. Evans and Simper were fired and
replaced, and the rest is history. The first three albums, however, show that all the required
elements were in place; only the focus was missing. Avoid the earliest CD reissues and go
for the remastered (at Abbey Road) versions with bonus tracks.
Audio clip: Adobe Flash Player (version 9 or above) is required to play this audio clip. Download the latest version here. You also need to have JavaScript enabled in your browser.
"Listen, Learn, Read On"

CD Reissue | 2000 | EMI | buy at amazon ]


Vinyl | 1968 | Harvest | search ebay ]
Also Recommended