Delaney & Bonnie & Friends "Motel Shot"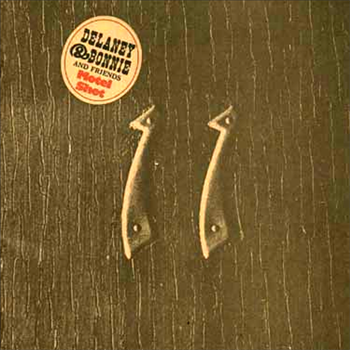 Maybe the first "Unplugged" album, Motel Shot presents Delaney & Bonnie & Friends live in the studio performing traditional numbers in the styles of gospel, country, and folk, in addition to four Delaney penned tunes (the hit of which was "Never Ending Song Of Love"). Luckily for us, Delaney & Bonnie's "friends" include Gram Parsons, John Hartford, Leon Russell (long overdue in these pages), Joe Cocker, Clarence White, Dave Mason, and Duane Allman. If this crew had got together in 1971 to record nonsense it would still be worth listening to, but they pour it out instead, dishing soulful performances with rousing gusto.
Motel Shot was recorded in the spirit of a late-night motel jam session, after the show – back to the basics. On top of the traditional numbers are standards from the likes of AP Carter, Bob Wills ("Faded Love" is a standout slow tempo killer) Chuck Willis, and Robert Johnson. The performances invite listeners to become a part of the music with a communal feel. Grab another tambourine or just bob your head. "Come On In My Kitchen" is featured for its remarkable sparsity in such a solid groove.
For more from this type of crew, take a look at Joe Cocker's Mad Dogs & Englishmen DVD, with excellent tour footage and backstage jam sessions offering a glimpse into the spontaneous traditional music paid homage by this record.
Audio clip: Adobe Flash Player (version 9 or above) is required to play this audio clip. Download the latest version here. You also need to have JavaScript enabled in your browser.
"Come On In My Kitchen"

CD Reissue | 1997 | Atco | buy from amazon
]


Original Vinyl | 1971 | Atco | search ebay ]
Also Recommended