Dory Previn "Mythical Kings and Iguanas"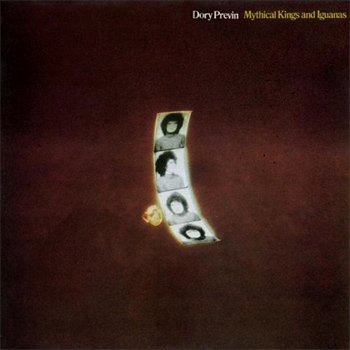 The life history of the woman born Dorothy Veronica Langan reads like an archetypal Hollywood biopic and is well enough documented elsewhere as to need no repetition here; a fine account can be found in Paul Pelletier's booklet notes to the current twofer CD of which Mythical Kings And Iguanas is a part. Suffice to say that her father's abuse and the breakup of her marriage to André Previn were just the two most high-profile of the stream of life experiences that coloured this woman's approach to songwriting. Put these together with her poetic talent, her extensive career as a staff lyricist for MGM musicals, and her years – she was 45 when her first proper solo album appeared – and the nature and quality of the half-dozen astonishingly personal and almost uncategorisable albums that Dory Previn recorded as a seventies singer-songwriter become clearly explicable.
Mythical Kings was the second of the six studio albums that Previn cut for three different labels between 1970 and 1976 and remains the best known, particularly here in the UK where she enjoyed a brief prominence during the "white room" singer-songwriter vogue that made heroes out of James Taylor and Joni Mitchell. Musically it's a restrained delight, with production and orchestral arrangements by Nik Venet and beautifully understated instrumentation by Clark Maffitt and Brian Davies on acoustic guitars, Larry Knechtel on Fender Rhodes, Joe Osborn and Ron Tutt as rhythm section plus the cream of the LA session mafia on other guitars, keys, strings and winds. The joy of the music here is that for all its quality it lets the words shine through, and what words they are! Previn's lyrics are sometimes masked in allusion and symbolism, but at others they communicate unalloyed her raw hope and hurt, the prevailing themes on this album being unrequited love and the futility of personal ambition and spirituality. The leadoff title track rues the pursuit of the ethereal at the expense of the real to the accompaniment of an immaculately spare piano backing by Knechtel and a disconcerting slide guitar. "Lemon Haired Ladies" is a barely-disguised admonishment of her former husband and his new amour, while "Angels And Devils The Following Day" compares two former lovers: "One was an artist, one drove a truck / One would make love, the other would fuck" – guess which one came out preferred. "Yada Yada La Scala" implores a prospective lover to stop making small talk and get down to romantic business to a jazzy, hopeful beat and segues beautifully into the haunting "Lady Of The Braid" which starts with the line "Would you care to stay till sunrise?" and rides effortlessly on Maffitt and Davies sweet acoustics and muted orchestral backing. "A Stone For Bessie Smith" is actually a bluesy paean to the late Janis Joplin, and "Mary C Brown And The Hollywood Sign" uses the suicide of a failed actress as a symbol of the futility of the American Dream (and would provide the theme of a whole later album), set to a mournful New Orleans backing. Maffitt's and Davies guitars provide a gorgeous accompaniment to "The Game" which uses gambling, cheating and lying as a metaphor for life – a lure to which Previn inevitably succumbs.
Mythical Kings is hard to find on its own in any format but is available on the aforementioned twofer CD along with the follow-up Reflections In A Mud Puddle, which includes the astonishing "Taps, Tremors And Time Steps" suite in which Previn juxtaposes the receipt of the news of her father's death with the disaster of the Hindenburg.  At the end of my review on Chris Bell's I Am The Cosmos I suggested that if you felt like getting emotionally wrung out one evening, you might try playing that album end-to-end with Tonight's The Night, In Utero and Elliott Smith's eponymous second album. Add this one to the list.
mp3: Mary C. Brown and the Hollywood Sign
mp3: The Game

Original | 1971 | Mediarts | search ]


Reissue | 2002 | BGO | buy ]
Also Recommended