Double Zappa |FZ| 1967 & 1969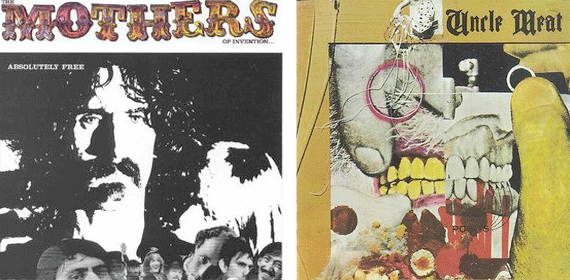 This is where putting Zappa's albums into pairs of two may fall under some scrutiny. Sure these records were released two years apart, with three albums in between them, but chronology does not a sister-album make. Absolutely Free and Uncle Meat are linked thru their equal yet disparate parts of experiment, satire, absurdist pop recreations, and early Mothers dada fun. And "Louie Louie" of course.
Absolutely Free (1967)
After releasing one of the first double-LPs in history, the unprecedented and fantastic Freak Out!, FZ further pushed the singularity of his music with Absolutely Free, an album near conceptual in its composition. Tracks like Plastic People, Duke of Prunes, the classic Call Any Vegetable followed by a powerhouse orchestrated jam make up a virtual Act I, laden with referential voiceovers and musical segues. The 2nd side contains more traditional Mothers pop rockers: Big Leg Emma, Why Don'tcha Do Me Right, Status Back Baby, all doo-wop inspired favorites. While the sound of the band is spectacular and gritty with drastic tape manipulations and editing, the vocals are often purposely dissonant and off-putting (save for Ray Collins' soulful singing). Even for weirdos like me, this is one of the harder albums to listen completely, but still a classic.
Audio clip: Adobe Flash Player (version 9 or above) is required to play this audio clip. Download the latest version here. You also need to have JavaScript enabled in your browser.
"Why Don'tcha Do Me Right"

CD Reissue | 1995 | Zappa Records | buy from amazon
]


Original Vinyl | 1967 | Verve | search ebay ]
Uncle Meat (1969)
This double-album was the result of the unfinished film, Uncle Meat. There is a tape out there comprising most of the footage, much of it extreme dadaism ("He's using the chicken to measure it…") but often some glimpses into the Mothers' life on the road. The album is indeed cinematic, the orchestrations are advanced and informed from We're Only In It From The Money, with Zappa carving out many of the elements to his unique sound. Some unforgettable tracks on here include Sleeping In A Jar, Dog Breath In The Year Of The Plague (see video below), Louie Louie on the Albert Hall pipe organ, and the monstrous instrumental King Kong parts I-VI, taking up the final side of the record. I have heard more than a few Zappaholics claim this as their number one.
Audio clip: Adobe Flash Player (version 9 or above) is required to play this audio clip. Download the latest version here. You also need to have JavaScript enabled in your browser.
"Sleeping In A Jar"

CD Reissue | 1995 | Zappa Records | buy from amazon
]


Original Vinyl | 1969 | Bizarre | search ebay ]
Dog Breath from Uncle Meat
Also Recommended