Double Zappa |FZ| 1968-1969 Solo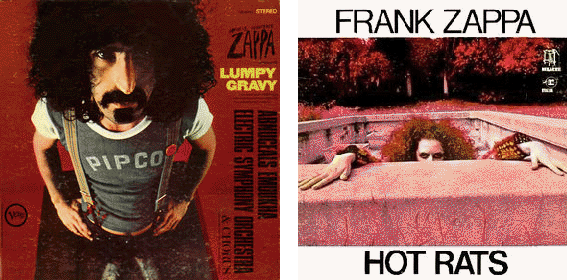 These two mostly instrumental albums are the first Frank Zappa solo records. Sans Mothers, Zappa used these forays to assert his interest in serious composition, drawing on influences like Igor Stravinsky, Edgar Varèse, and of course, popular rock and roll music.
Lumpy Gravy (1968-)
Lumpy Gravy is a wildly impressive collection of musical ideas, set in two musical suites. Incorporating surf and pop rhythm sections with musique concrete and absurdist vocal samples (recorded inside a piano with all the keys pressed down, nabbing harmonics from the resonating strings nearby), it does in fact feel like "phase two of We're Only in It for the Money," borrowing its wonderful sped-up, tape manipulated feel. The composition is loaded with themes that would be recycled on later releases ("Bwana Dik," "Oh No," "King Kong"). Recorded with the Abnuceals Emuukha Electric Symphony and meticulously spliced and diced by FZ, Lumpy Gravy is a monumental achievement – but only a drop in the bucket from one of rock's most prolific composers.
Audio clip: Adobe Flash Player (version 9 or above) is required to play this audio clip. Download the latest version here. You also need to have JavaScript enabled in your browser.
"Duodenum (Theme From Lumpy Gravy)"

CD Reissue | 1995 | Zappa Records | from amazon ]


Original Vinyl | 1968 | Verve |  search ebay ]
Hot Rats (1969)
I wouldn't say this album is notably better than any other FZ record, but it caught on big. Maybe it's the short, catchy title; may be the toned down weirdness;  could be that Zappa just cut all the bullshit and delivered an undeniable slab of rock that the masses could dig and critics would acclaim. Two of these tracks ("Peaches En Regalia" and "Son of Mr. Green Genes") even made the legendary (albeit illegal) jazz standards tome, The Real Book, proving the album was the equal of contemporary 'musician's music.' While "Peaches," featuring Shuggie Otis on bass guitar, may have been the zaniest track ever to become a standard (played on baseball stadium organs to this day), the rest of the album eschews condensed complexity in favor of long form jams and sickening guitar work. Captain Beefheart's vocal performance on the hot-licked "Willie The Pimp" might be one of his defining moments, though certainly not from Capn's viewpoint – his distaste for FZ's production prowess begins here. The rest of the album is fully instrumental – groovy, melodic, jazzy, brilliant, essential listening. In case you haven't heard it by now:
Audio clip: Adobe Flash Player (version 9 or above) is required to play this audio clip. Download the latest version here. You also need to have JavaScript enabled in your browser.
"Peaches En Regalia"

CD Reissue | 1995 | Zappa Records | from amazon ]


Original Vinyl | 1969 | Reprise | search ebay ]
Also Recommended