Double Zappa |FZ| 1973-74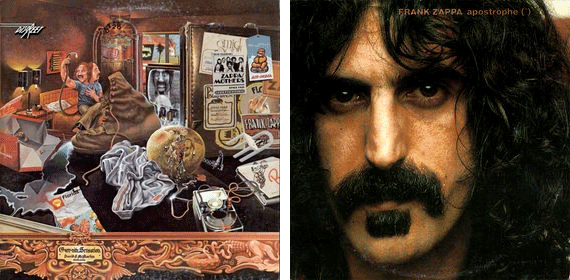 Throughout the years 1999 to 2003 or so, I collected and devoured just about every official Frank Zappa release. It's time to let it out of the brain, and hopefully you can use these posts as an introduction to this man's incredible body of work.
I've found that FZ albums tend to come in two's, so here's our first double shot of Frank. These years contain his most commercially successful works and act as a fast and bulbous starting point.
Over-Nite Sensation (1973)
Zappa liked a tight band. The players on Over-Nite Sensation (notably featuring George Duke, Ruth Underwood, and the Fowler Brothers) would comprise the cleanest and strictest sounding rock ensemble yet. Nothing shows this more than the insanely detailed changes and synth, horn, and melodic percussion runs to one of my early favorites, Zomby Woof. The gnarly guitar lick and morally condemning lyric to I Am The Slime kinda says it all about his classical/satirical approach to rock music. And the succinct guitar solas throughout this record are both introductions and solid proof of his out-of-this-world modal guitar mastery. Dinah Moe Humm and Montana are bona fide Zappa classics and I remember even steadfast Zappa haters admitted to liking Camarillo Brillo.
Audio clip: Adobe Flash Player (version 9 or above) is required to play this audio clip. Download the latest version here. You also need to have JavaScript enabled in your browser.
"Camarillo Brillo"

Vinyl Search | Over Nite Sensation @ eBay ]


CD Reissue | 1995 | Over-Nite Sensation
]
Apostrophe (') (1974)
Zappa had the extraordinary ability to create unheard new sounds, rhythms, and textures with each of his bands. The opener to Apostrophe, well known favorite Don't Eat The Yellow Snow, has one of these rare grooves. Turned up loud it's this killer double guitar riffing that alternates with a fantastic disco hi-hat rhythm. Without changing time signature even, this groove still manages to entrance me today. See, it's not the goofy, sometimes embarrassing lyrics and jokes tucked away in every Zappa piece that I seek out (though strangely comforting they are); it's the treasures of complicated movements and studio /conducting genius that made Frank Zappa the transcendental composer and producer we know him as today. Get this one for a perfect development from Over-Nite Sensation, featuring even zanier movements, and of course that sick guitar lick on the title track.
Audio clip: Adobe Flash Player (version 9 or above) is required to play this audio clip. Download the latest version here. You also need to have JavaScript enabled in your browser.
"Don't Eat The Yellow Snow"

Vinyl Search | Apostrophe @ eBay ]


CD Reissue | 1995 | Apostrophe (')
]
Note: serious fans won't want to miss the new Classic Albums Series DVD: Apostrophe / Over-Nite Sensation
.
Apostrophe (') Trailer 1974
[youtube]http://youtube.com/watch?v=7sBSqKeiuZk[/youtube]
Also Recommended