Double Zappa |FZ| 1974-75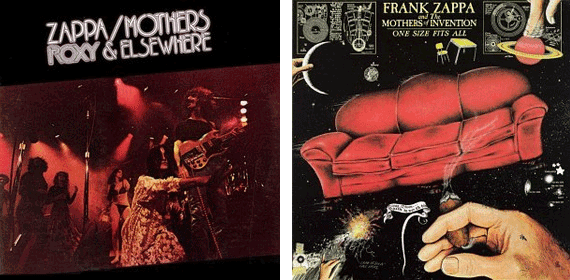 After creating his two most commercially successful albums, FZ released a couple of beasts that many progressive fans call his apex and would become the Elements of Style for nearly every jam band in the 90s. I'm more of an early Mothers fan but there's no denying this is some of his best.
Roxy & Elsewhere (1974)
In the midst of an old Zappa-crazed summer, this one really blew me away. I had never imagined a live band could perform like this, and I still don't think I've ever heard a performance like Roxy ever since. The band was tighter than ever while playing the most complex passages Zappa had yet penned. Pygmy Twylyte and Echidna's Arf are intricately orchestrated pieces that must have been exhilarating in a live setting. Napoleon Murphy Brock's vocals balanced the show with a relaxed quality on Village Of The Sun and Son Of Orange County, a mellowed out retake for Frank to stretch his guitar over. The 15+ minute Be-Bop Tango gives a taste of the fun to be had at a Zappa show and a welcome Freak Out! number, Trouble Every Day, offers what may be the heaviest drum fill I've ever heard.
Audio clip: Adobe Flash Player (version 9 or above) is required to play this audio clip. Download the latest version here. You also need to have JavaScript enabled in your browser.
"Echidna's Arf (Of You)"
One Size Fits All (1975)
Same band as on Roxy & Elsewhere hits the studio.  The prog-rock numbers benefit from some studio attention and Ruth Underwood's tuned percussion feats continue to amaze, but there are some new Zappa classics to fall back on, namely Po-Jama People, San Ber'dino, and Sofa (a recurring FZ theme introduced here in song and illustration). At once, the album will satisfy pop and prog fans alike as things never veer too far in one direction. One Size Fits All is a jewel from Zappa's prime and never could enough be said of his guitar work on Inca Roads.
Audio clip: Adobe Flash Player (version 9 or above) is required to play this audio clip. Download the latest version here. You also need to have JavaScript enabled in your browser.
"Inca Roads"
Also Recommended