Earth Opera "Great American Eagle Tragedy"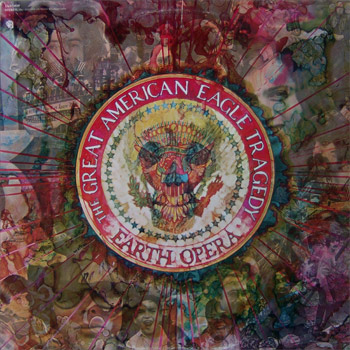 Earth Opera was one of several groups to come out of the rather infamous "Bosstown" scene, a motley wave of rather disparate bands modeled on the highly successful San Francisco sound and pushed by MGM publicity man Alan Lorber. Despite being grouped together in marketing and subsequent rock and roll history, the only real common denominator among these groups is, well, Boston. Each band really did have its own unique sound and aesthetic, and each deserves to be looked at independent from the record company hype that clouded their reputations back in the late 1960s. Earth Opera, headed by future bluegrass pioneers David Grisman and Peter Rowan (who had already made something of a name for himself singing with Bill Monroe), gave testimony to this spirit of individuality when they released The Great American Eagle Tragedy in 1968.
The album opens with what could have been a killer single, Rowan's"Home To You". This song would later be re-recorded by Seatrain in the early 1970s, but the original recording is absolutely superior. Soaring harmonies and snaking steel guitar lines make this one probably the closest Earth Opera got to country rock, which, though eminently enjoyable, doesn't quite prepare you for the weirdness to follow. "Mad Lydia's Waltz" is a surreal and atmospheric sketch of a woman heading down a "cobblestone alley" to meet her lover. The lyrics and trilling mandolin almost draw the sound into the British folk rock territory of Fairport Convention, and Rowan's keening vocals really do border on unsettling.
From there, the band skips through a myriad of sounds, from the rather pale, lightweight pop of "Alfie Finney" to the rollicking "Sanctuary From the Law". Earth Opera has a well-defined sound, and their real talent is in exploring that sound from all possible angles. The end result is that every cut has its own distinct character, while at the same time working towards building a coherent whole. This whole comes together beautifully on the undeniable centerpiece to the record, the ten-and-a-half minute title track. "The Great American Eagle Tragedy" begins with the mournful wailing of saxophones, with the band eventually building into an explosive early climax and a brief bit of silence. Heavy drums draw the music back in and the band rumbles into a pounding anti-war anthem replete with free-jazz fuzz guitars, whistling flute improvisations and some of the most intense vocal screaming I've heard on a 1960s recording. To be perfectly honest, experiencing this song may be worth the price of the album alone.
It's hard to imagine what could possibly follow "The Great American Eagle Tragedy," but somehow the band clears the hurdle by throwing in an undeniably catchy rocker that somehow manages to compare love to a roast beef sandwich against a backdrop of mangled guitars. It may sound ridiculous, but this is one you'll be humming to yourself long after the needle's been lifted. The tasteful production, courtesy of underground folk legend Peter Siegel, helps keep this gnarly tangle of instruments and sounds in order, and really does give the record just the right amount of fine-tuning it needs to succeed.
Earth Opera released a self-titled record before this one, which is rather different from its follow-up, but definitely solid. Both albums were reissued on compact disc by Wounded Bird Records in 2001, but it looks as though The Great American Eagle Tragedy has since gone out of print. Fortunately, you can find original copies of the album relatively cheap, and seeing as Edsel Records recently reissued it on vinyl, new copies aren't that hard to snag.
Audio clip: Adobe Flash Player (version 9 or above) is required to play this audio clip. Download the latest version here. You also need to have JavaScript enabled in your browser.
"Home to You"

CD Reissue | 2001 | Wounded Bird | buy here ]


Vinyl |  1969 | Elektra | search ebay ]
Also Recommended