East of Eden "Mercator Projected"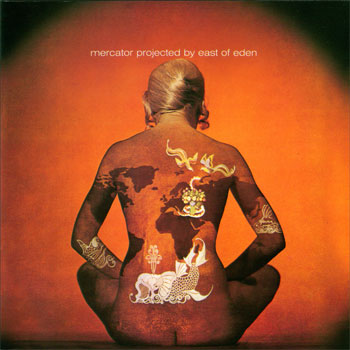 Fantastic album from an English group that bridged the psychedelic and progressive worlds together. East of Eden had put out a non lp single prior to their debut album, Mercator Projected, which was released in 1969 off Decca. The band formed in 1967 and was centered around classically trained violinist Dave Arbus, guitarist Geoff Nicholson and vocalist/sax player Ron Caines.
The group had a strong underground following in London and in other parts of Europe but never attained the widespread success they deserved. Arbus' flute, violin, and sax played a prominent role in East of Eden's sound and on any given night they could have easily upstaged similar, like-minded bands such as the Mahavishnu Orchestra or Colosseum. Many of these songs have a clear Eastern influence as heard on the experimental Waterways. Waterways starts out as a trippy pop-sike number with lots of mellotron that eventually morphs into an explosive, metallic hard rocking raga piece. The opener, Nothern Hemisphere is a menacing, bass heavy piece of progressive rock that is somewhat similar to early King Crimson in its power and fury. In fact King Crimson's debut may be Mercator Projected's closest reference point. It's difficult to mix classical, blues, jazz, folk, hard rock and psychedelia into a seemless whole but somehow East of Eden does this well. They shine on the classic jazz-psychedelic instrumental In The Stable of the Spinx and completely dismantle the superb blues-rock number Centaur Woman into something new and avant garde. There's even a few good psychedelic pop tracks (Moth and Bathers) on an album known for its progressive tendencies.
All the songs are really good and there are few early progressive albums that are better than Mercator Projected. It's all very intense in an English sort of way but there is no denying the greatness and talent that is packed within this record and group. In 1970 they would release another classic album, Snafu before taking a 360 turn and becoming a wasted country-rock outfit. The recent Esoteric disc is recommended as it includes the original album along with some interesting demos, which include an excellent cover of Eight Miles High.
Audio clip: Adobe Flash Player (version 9 or above) is required to play this audio clip. Download the latest version here. You also need to have JavaScript enabled in your browser.
"Waterways"

CD Reissue | 2008 | Esoteric | buy from amazon
]


Original Vinyl | 1969 | Deram | search at ebay ]
Also Recommended