Eggs Over Easy "Good 'N' Cheap"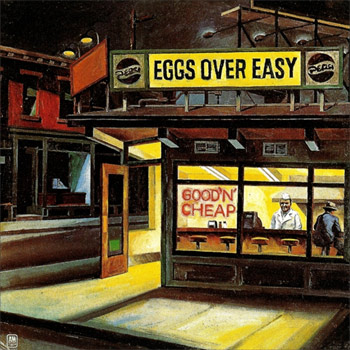 Here's another one for the wish-this-wasn't-it list. Eggs Over Easy were virtually unknown but recorded an incredibly solid album and have a cool story to boot.
Credited with launching the genre of pub rock, these hard working American road warriors brought the sound of Americana/country rock to the pubs in England during an ill-fated recording trip, and ended up gigging around until their visas ran up, inspiring the likes of Brinsley Schwarz, Bees Make Honey, and Frankie Miller. They had amassed an impressive repertoire of original and cover material upon their return to the states, and recorded Good 'N' Cheap out in Tuscon, AZ with Link Wray producing. Sadly, it's about all they recorded.
You can tell the Eggs were seasoned performers the instant their record hits. These fun, good-natured country tunes have a smooth, Steely Dan vibe, sounding at times squeaky clean, loose & tight, honest and raw. All but one are originals, with writing and singing duties equally distributed between members Austin Delone, Jack O'Hara, and Brien Hopkins. The songs are surprisingly versatile: "Party, Party" is a pure sweet '70s treat,  just what the title says, "Arkansas" is a gorgeous, foot-tapping roots ballad, "Runnin' Down to Memphis" is straight country, and a couple harder blues numbers round things out (though "The Factory" is my one skippable track and I'm not too big on "Night Flight" despite its Bowie-tinged flavor). I originally thought the record was a little top-heavy, considering how the first three tracks seem to climax during the anthemic chorus to "Henry Morgan," but Good 'N' Cheap is loaded with gems. These are pretty advanced compositions for a bar band, "Home To You" and the nearly epic "Pistol On A Shelf" are unmissable tracks. Same with "Face Down In The Meadow" and "Don't Let Nobody," which feel like instant classics.
It's the kind of record where you savor the bonus cuts. "111 Avenue C" gives us a taste of the live Eggs act, featuring some intense scatting at the back of this swinging blues number. Also included is the infamous "Bar In My Car" ("put a bar in the back of my car and drive my self to drink") and is actually one of the band's catchiest moments.
There is reportedly a 2nd album out there, recorded in 1982 called Fear of Frying. I have yet to track it down but based on this debut, it's a joke it hasn't been properly reissued. In any case, Good 'N' Cheap is no doubt essential to any fan of Americana and pub rock. Sincere, sweet, feel-good music.
Audio clip: Adobe Flash Player (version 9 or above) is required to play this audio clip. Download the latest version here. You also need to have JavaScript enabled in your browser.
"Arkansas"

Original Vinyl | 1972 | A&M | search ebay ]
Also Recommended