Embryo "We Keep On"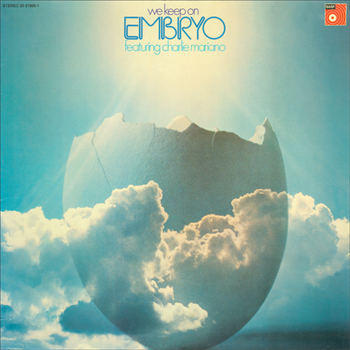 Embryo are a brilliant Krautrock band that began in the late 60's, creatively flourished throughout the 70's and are still making great music today. While contemporaries the Tangerine Dream and Kraftwerk pioneered electronic rock and Can were content exploring the avant garde fringe elements, Embryo favored a jazzy form of space rock with very strong elements of world music.
Christian Burchard has always remained the constant throughout Embryo's long, varied career. On this recording he is the lead vocalist and also plays mellotron, vibraphone, percussion, drums, keyboards, marimba, mellophonium, bass, guitar, and saz. We Keep On is often regarded as Embryo's masterpiece, an overwhelming lp mining West African rhythms that reach deep into unexplored regions of your mind. Burchard's vocals are strange and unconventional in an almost proto new-wave way. The first song, Abdul Malek, sounds like nothing I have ever heard before and should really appeal to psych fans (take note of the acoustic raga riffs) even though this is a 1973 release. Don't Come Tomorrow is another good trancey song with understated mellotron, piano, vibes, and interesting bamboo flute courtesy of Charlie Mariano.
The lp is divided evenly between instrumentals and vocal tracks (there are 6 songs in total and 2 extra on the recent reissue by Disconforme). No Place To Go features crazed Burchard vocals and some fabulous jazz guitar playing while other tracks like Hackbrett-Dance and Flute and Saz tap into something new and totally original. In 1975 Miles Davis had this to say about Embryo, "That German hippy group where Mal Waldron used to play; they are doing interesting things. You know, man? They are good musicians, just playing good shit!" This was the ultimate compliment coming from a jazz master and a good enough reason to check out this great, lost album.
Audio clip: Adobe Flash Player (version 9 or above) is required to play this audio clip. Download the latest version here. You also need to have JavaScript enabled in your browser.
"Abdul Malek"
[ Buy from Amazon
| Search eBay ]
Also Recommended