Faine Jade "It Ain't True"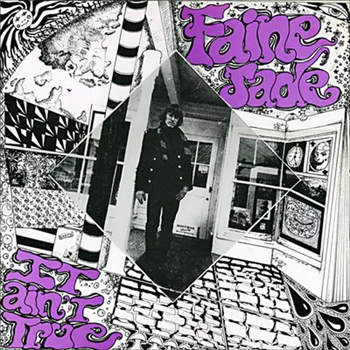 Many of the artists that made the classic psych/garage comps Nuggets and Pebbles tend to have a disappointing discography, other than that one killer track. Whether they recorded an album full of filler or no album at all, diving in based on one single is a risk. But damn, the search pays off when you dig up just one well-buried record that should have been a classic.
Long Island's Chuck Laskowski began his recording career, along with friend and collaborator Nick Manzi, as The Rustics, an overlooked yet top-notch mid-60s garage combo (whose material comprises much of this record). Donning the name Faine Jade in 1967 with the single "It Ain't True," Jade went on to record the psych opus Introspection: A Faine Jade Recital. It's commonly known as a collector's piece and the best of Jade's material, but my money is on this 90s comp of Faine's earlier stuff. I guess I just like it stripped down and dirty, tape warble and hum. While the sound can be cavernous, dark, moody (clearly aided by members of the Bohemian Vendetta, who were part of The Rustics and backed Faine on Introspection) the writing is an ingeniously catchy mix of pop and garage rock.
"Look at Me" boasts the cleanest sound on the record, propelled by a commanding electric rhythm and a lovely slop of tambourine. Wild surf guitar leads take us through "Cant Get You Out of My Heart," a rumbling, poppy driver I can't get out my head. Then there's a sad and out take very much like a ballad from Bermuda's wild Savages,  "I'm a Wanderer Too," featuring shimmery electric piano and some downright evil-sounding bass guitar. Though a compilation, the record flows like a well-thought out album, moving from dingy marches ("Don't Underestimate Me") to downers ("Gonna Love You Anyway," "December's Children") highlighted by great,  memorable rockers ("Can't Let You Go," "Look Before You Leap," "I Lived Tomorrow Yesterday"), light psychedelia ("Cold Winter Sun",) and genuine garage thrash ("It Ain't True").
This may be a collection of discarded tracks from a little-known band's early beginnings, but It Ain't True plays like a best-of record, one of the better garage collections from any artist. Make an effort to get your hands on this underrated classic.
Faine Jade, along with Nick Manzi, would later record a promising country rock departure, 1971's Dust Bowl Clementine.
mp3: Look At Me
mp3: Can't Let You Go

Compilation | 1992 | Distortions | buy from Faine Jade ]


Spotify link | listen ]
Also Recommended