Fairport Convention "Unhalfbricking"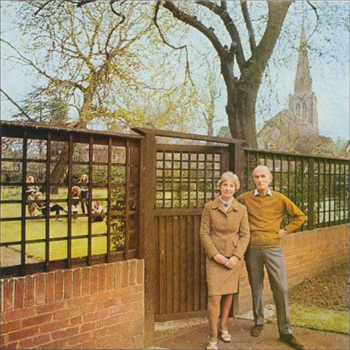 I can't tell why I waited so long. After dabbling into the Fairport Convention's discography with their universally acclaimed Liege & Lief, I apparently had had my Fairport fill. Such a fool was I for stopping there. Unhalfbricking is at once interesting and satisfying, delicate and fierce, joyous and moving. Also, where Liege & Lief might sound saccharine to first time listeners, this one won't.
This is an album that really appeals to my taste in sound. There's a quality to some of my favorite produced albums that's hard to explain. The best description comes from Robbie Robertson, describing the Band's self-titled 2nd record: a 'woody' sound. To me, this descriptor evokes a loose and real recording quality, where the bass and guitar are dry, EQ doesn't over-shape every sound, and the drums have this warm and hard bite – the sound is so nice you wish you could grab it and hold it in your hand. The hand clapping, for example, on Si Tu Dois Partir (a French language version of Dylan outtake If You Gotta Go, Go Now) and the carefree accordion sound so present it truly warms the heart.
Bob Dylan fans can't afford to ignore this record. Three tracks come from outtakes that didn't make his original albums, the others being Percy's Song (from Times-a-Changin) (maybe the best song on this record) and the Basement Tape's Million Dollar Bash. Original contributions from Sandy Denny, Autopsy and Who Knows Where The Time Goes, are outstanding. So much spirit in these numbers.
While Unhalfbricking has much more to offer than the 11-minute centerpiece, you've got to listen (loud) to the epic track below on your next commute, as it drives through the gamut of style the Fairport Convention honed mastery over, from Sandy's soothing vocal, the solid ingrained folk background, a slowly building and unbridled groove, with classic Richard Thompson guitar riffage and David Swarbrick fiddling, and a few moments so perfect they'll run chills through you.
Audio clip: Adobe Flash Player (version 9 or above) is required to play this audio clip. Download the latest version here. You also need to have JavaScript enabled in your browser.
"A Sailor's Life"

CD Reissue | 2008 | Water | buy @ amazon
]


Vinyl Search | @ebay ]
Also Recommended