Freedom "Nero Su Bianco (Black On White)"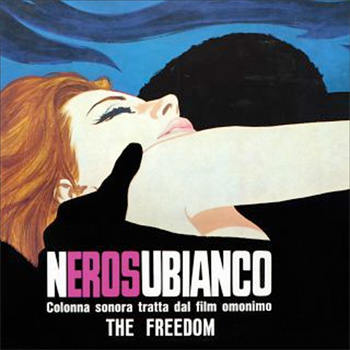 The history of this MIA sixties popsike gem seems to be better known than the music itself, possibly
because it's such a quirky tale. Almost immediately after the runaway success of Procol Harum's
first 45 rpm outing, "A Whiter Shade Of Pale", in the summer of 1967 drummer Bobby Harrison
and guitarist Ray Royer left the band for reasons undisclosed but amid very public rancour, in the
wake of co-manager Jonathan Weston who had been fired just previously. Enlisting the youthful but
experienced Mike Lease on Hammond and piano plus unknown teenager Steve Shirley on bass and
lead vocal, Harrison christened the new outfit Freedom, possibly as a snipe at Procol. While they
rehearsed at Weston's house, the manager somehow obtained for them a commission to produce
the soundtrack for an upcoming erotic movie by Italian avant-garde director Dino Di Laurentiis. This
would be virtually dialogue-free, with the soundtrack's lyrics providing the principal characterisation.
The recordings for this challenging project took place at London's Olympic Studios over two months,
produced by Lease and engineered by Glyn Johns, no less, and Eddie Kramer, future producer to
Jimi Hendrix. The film was entitled Nero Su Bianco (or Attraction/Black On White for release outside
Italy). The band actually appeared in the film, miming the songs as a commentary to the action. It's
not explained how Italian audiences were expected to cope with the English lyrics.
The movie predictably stiffed everywhere outside its native country, and found only an art-house
audience at home. The music would have disappeared along with it, no release on record ever
having been intended. However, Atlantic Records had issued an album of the soundtrack in 1969
in Italy only, totally without the band's cognizance, and this was picked up thirty years later by
the new generation of UK psych rarity anoraks, finally finding a general release as Black On White
on the Angel Air reissue label. As for Freedom, Weston had finally secured them a recording deal
with Mercury in 1968 under which a single "Where Will You Be Tonight" appeared, but its chart
failure and that of a subsequent single "Kandy Kay" on EMI's German Plexium imprint, plus rising
antagonism between founder members Harrison and Royer, led to the band's demise early the
following year. Harrison went on to lead a new and very different Freedom which produced several
albums in a typical early-70s hard-rock style.
The music on Black On White will not sound unfamiliar to Procol Harum devotees, being heavily
keyboards-based with Shirley's soulful lead vocals reminiscent of Gary Brooker, although perhaps
nearer to Greg Lake. The general feel is however more funky and less bombastic than Procul of the
same period, maybe closer to early Traffic. It owes its psych credentials to the mildly lysergic lyrics
and to the use of string-quartet backings, harpsichords and other pop-Baroque touches, rather
than to studio trickery, this being limited to modest if ubiquitous flanging. There are no obvious
highlights, all tracks being of a uniformly excellent quality both in the songwriting and in the playing.
The 2009 CD re-release includes all thirteen cuts from the original soundtrack, plus both sides of the
Mercury single and some alternative mixes.
Audio clip: Adobe Flash Player (version 9 or above) is required to play this audio clip. Download the latest version here. You also need to have JavaScript enabled in your browser.
"The Better Side"

CD Reissue | 2009 | Angel Air | buy at amazon ]


Original Vinyl | 1969 | Atlantic | search ebay ]
Also Recommended