Funkadelic "Free Your Mind… And Your Ass Will Follow"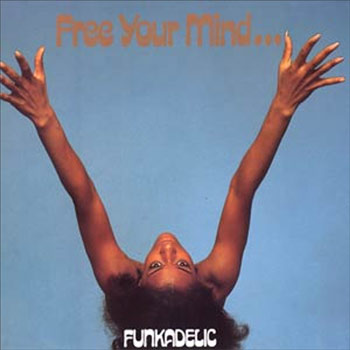 It really doesn't get any better than this, Funkadelic's 1970 sophomore release off the Westbound label. Formed in 1968, Funkadelic was one of two bands on two different record labels fronted by George Clinton (the other group being Parliament, of course).
Some years back George Clinton had this to say about his two pioneering funk groups, "Parliament was more orchestrated with horns and complicated vocal arrangements while Funkadelic was more a straight up rock band with a heavy rhythm section." He also added, "what we knew from Motown and what we'd seen with Sly, and everybody else… We were able to take that and make a real classy jazz funk and then be as silly as we were." The early Funkadelic sound was more rock oriented with lots of insane guitar soloing and creative keyboard work coming from both Eddie Hazel and Bernie Worrell. George Clinton produced and provided vocals on this fine psychedelic masterwork which many feel is Funkadelic's most "out there" recording. There are all kinds of zany production tricks at work here from the stereo panning on I Wanna Know If It's Good For You to super phased vocals that smear Some More. Some More may be the album's most conventional cut though it's still a great experimental soul number with lots of reefer madness and a nice bluesy arrangement.
Clinton's lyrics are pretty sharp and humorous throughout the album and there is no doubt that Hazel's guitar playing was heavily influenced by Jimi Hendrix. For example, songs like I Wanna Know If It's Good For You and Friday Night, August 14th have tons of feedback and wah-wah that recall late period Hendrix, specifically the Band of Gypsies. Hazel was surely one of the great guitarists of his generation and one can also hear a little Curtis Mayfield in his playing. But Funkadelic were first and foremost orginal artists and legend has it that George Clinton and the group engulfed an enormous amount of drugs during the album's recording sessions. Other fine tracks like Funky Dollar Bill represent the group's funky, good time side, a sound they would develop with great success on future releases.
Funkadelic were one of the great Detroit groups and nothing in the rock n roll or soul cannon resembles their early catalog. The song arrangements and performances on this lp are much looser and less pop oriented than other psychedelic soul masterpieces like Psychedelic Shack by the Temptations or Sly Stone's Stand! Easy to find on cd or vinyl, this is truly an inspirational recording and one of the greatest psychedelic releases ever.
mp3: Friday Night, August 14th

CD Reissue | 2005 | Westbound | buy from amazon
]


Original Vinyl | 1970 | Westbound | search ebay ]
Also Recommended