Gene Vincent "If Only You Could See Me Today"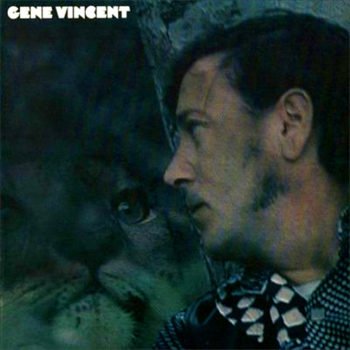 Gene Vincent's self-titled lp (also known as If Only You Could See Me Today) is the first of a pair of records released by Kama Sutra Records in 1970. Recorded at the legendary Sound Factory recording studio in Hollywood, CA just a year before his untimely death in 1971, Gene Vincent was undoubtably an attempt to cash in on the roots-rock surge of the late 60s and early 70s. Just as Elvis Presley, Ricky Nelson, Link Wray, and the Everly Brothers were busy updating their images and fashioning new sounds for the changing times, so was Gene Vincent. Fortunately, Gene and his band, which featured L.A session ace and Kaleidoscope co-founder Chris Darrow as well as not one, but three members of the infamous Sir Douglas Quintet (Harvey Kagan, Johnny Perez, and Tex-Mex Farfisa fanatic Augie Meyer), were able to deliver an excellent record that expands upon Gene's classic sound while simultaneously creating a melting pot of numerous roots-rock styles; with touches of Cajun, Tex-Mex, Swamp Rock, Soul, R&B, Country, and Folk, Gene Vincent is an excellent example of some fine Cosmic American Music to be sure!
The first track, a cover of Mickey Newbury's "Sunshine", is quite possibly the finest version of the song that's been laid to wax. Setting the blueprint for the sound of the record–70s bootcut boogie with a serious Texarkana twist–the tune opens with acoustic guitar and a funky bass line topped off with some tasty Tex-Mex tinged organ riffing courtesy of Augie Meyer. When Gene sings "Sunshine, you may find my window/But you won't find me…Sunshine, as far as I'm concerned don't be concerned with me," his lazy laid-back delivery truly embodies the voice of the character in the song–a man who's tired of struggling to keep out the darkness and has resigned himself to a life of depression and isolation. Almost entirely gone is the rollicking rockabilly style of his younger years, in its place is a laid back yet emotionally expressive vocal style.
Next up is "I Need Woman's Love", which sounds similar to a handful of tracks off Doug Sahm's excellent 70s solo records. Augie's presence once again goes a long way in terms of adding legit Tex-Mex flavor and the tune will likely be a favorite of Sahm fanatics craving more funky borderland jams. Slow Times Comin' is a stoney swamp rock jam in the vein of CCR's "Keep on Chooglin" and "Graveyard Train" that clocks in at just over nine minutes. "Danse Colida," a traditional Creole folk tune, brings yet another slightly unexpected twist to the album with its spicy Cajun fiddle licks. "Geese," which also appeared on the B-side of the "Sunshine" single, is a folky tune about the free wheelin' lives of, you guessed it, geese. While not exactly a throwaway tune, it lacks momentum and substance compared with some of the other tunes on the release.
Gene's take on the Bobby Bare tune "500 Miles" that kicks off Side B is absolutely irresistible with its swampy late-night Texarkana soul vibe. Fleshed out with funky wah-wah guitar, Garth inspired organ grinding, underwater leslie background guitar textures, and a bold fuzzed-out guitar line in the bridge, this is definitely one of the standout tracks on the lp–absolutely perfect for those wasted days and wasted nights! "Listen To The Music," Gene's plea for world peace through song, is a bouncy pop tune with a forever relevant message delivered in a fashion completely true to the time. "If Only You Could See Me Today" is a swampy country rocker written by Augie Meyer that recalls some of the more rocking tunes on Dale Hawkins' L.A, Memphis, & Tyler, Texas, and "A Million Shades of Blue,"written by Gene along with the help of his wife Jackie Frisco, is a lovely pop/country tune that would've made an excellent single had Kama Sutra decided to release another one after "Sunshine". The bluesy "Tush Hog" closes the lp with nearly 8 minutes of sultry southern swamp jammin'.
Unjustly dismissed upon its initial release, mostly ignored by long-time fans and deemed a failed attempt at a comeback by much of the rock press of the era, it's high time that Gene and his gang receive the credit they deserve for what is not only an excellent time capsule of funky early 70s roots-rock sounds, but actually a really great album with an interesting and varied sound that could've and should've taken Gene's career in a new direction had years of  hard livin' not taken him away from us too soon. While not extremely pricey, original vinyl copies of Gene Vincent can be a tad tricky to come by. However, Rev-Ola has issued a cd compilation entitled A Million Shades of Blue that consists of Gene Vincent as well as the Kama Sutra follow up Day the World Turned Blue. Don't miss out on this forgotten 70s classic!
Audio clip: Adobe Flash Player (version 9 or above) is required to play this audio clip. Download the latest version here. You also need to have JavaScript enabled in your browser.
"Sunshine"

Compilation | 2008 | Revola | buy ]


Original | 1970 | Kama Sutra | search ]
Also Recommended