Grateful Dead "From The Mars Hotel"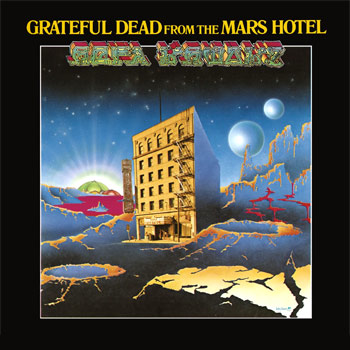 For some reason I came late to the Grateful Dead. A perceptive workmate introduced me to Workingman's Dead and American Beauty in the mid-70's, and then loaned me this, their latest release, which subsequently became a lifelong favourite.
Now nobody's ever going to claim this period as the Dead's golden age. Their collective creativity was heavily diluted by the loss of two original members and a slew of solo and side projects; their organisation was financially mired by its 300-plus employee wagebill, massive organised bootlegging of their first independent release Wake Of The Flood and the spiralling cost of their cocaine habit; and their new fifty-ton PA system, the notorious "Wall Of Sound", demanded yet further intensification of their already exhausting touring schedule to recoup its outlay. Somehow out of all this they managed to produce in 1974 an immaculate studio album, which despite its quality still remains largely under the critical radar.
The eight songs here all feature taut songwriting and, in contrast with the legendary loose nature of the band's live shows, gratifyingly tight performances. All would lend themselves to funky stretchout treatment on stage, yet benefitted from the distillation necessary to fit them into a studio collection. Jerry Garcia still finds space to weave his magical, sparkling lines among the verses, and the tight three-man rhythm section (only Bill Kreutzmann on drums here) effortlessly surmounts the exotic, often shifting rhythms. Keith Godchaux provides a new versatility on keys – acoustic piano, synth and harpsichord as well as trademark organ – and his wife Donna gives a new Grace Slick-like edge to the harmonies so saccharine-sweet on American Beauty.
From the opening jaunty shuffle "U.S. Blues", which captured good-humouredly the cynical yet defensive national attitude following Watergate, to the brooding, diminished-chord-laden Dylanesque closer "Ship Of Fools", there really are no weak tracks here. For me the standouts include Garcia and Hunter's oh-so-funky "Loose Lucy" which gallops along on one of Captain Trips's most irresistable riffs, and Bob Weir's highly enjoyable reinvention of the old Motown standard "Money" as "Money Money", in which the avarice is transferred to his unidentified lady friend and the original riff neatly subsumed into a new chord structure and irregular time signature. Phil Lesh finally attains composer recognition with the hazy, shimmering "Unbroken Chain" and the lilting "Pride Of Cucamonga" on which guest pedal steelist, Cactus's John McFee, provides tremendous accompaniment to Lesh's earnest tenor. The most gifted singer in the band is of course Garcia, and my personal favourite is his rollicking "Scarlet Begonias" which forefronts the Captain's delightful plaintive whelp either side of a brief, exemplary Garcia/Godchaux instrumental dialogue, plus some exhilarating Lesh bass on the jazzy coda: definitive 70's Dead stuff. Oh, yes, and the album title refers to the nickname of an itinerants' hostel around the corner from the studio.
This album could be the Dead's best kept secret. Go discover.
Audio clip: Adobe Flash Player (version 9 or above) is required to play this audio clip. Download the latest version here. You also need to have JavaScript enabled in your browser.
"Pride of Cucamonga"

CD Reissue | 2006 | Rhino | at amzn ]


Vinyl | 1974 | Grateful Dead | at ebay ]


Spotify link | listen ]
Also Recommended