Grin "1+1"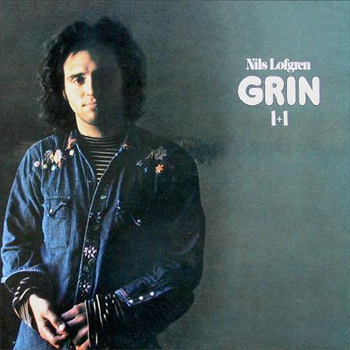 1+1 was the second album from Grin, an LA based band fronted by Nils Lofgren (who originally hailed from Washington, DC). This lp followed their rock solid, self-titled debut album from 1971. 1+1 sounded stronger, more confident and clearly displayed Lofgren's talent as a musician and songwriter.
Lofgren had always believed in straight ahead rock n roll though some of the songs on this lp veer towards roots rock and orchestrated pop rock. The first side of the original lp featured mid tempo rockers while side 2 was devoted to Emitt Rhodes/Paul McCartney-like ballads. It was yet another hard luck record from the era, and even though 1+1 had many shining moments, it still did not sell well. White Lies opened 1+1 on a firey note with sharp Lofgren vocals, Moody Blues-like harmonies and sparkling rustic accoustic guitars. The first half of this lp is really a record for classic rock fanatics and will surely appeal to fans of Todd Rundgren and Crazy Horse. Moon Tears, End Unkind and Please Don't Hide are ballsy, hard hitting and tasteful, making it hard to believe that Lofgren is known for who he has played with (Bruce Springsteen and Neil Young) rather than that of his own music.
Most of the rock n roll heard on this record is much stronger than what you would hear on your local classic rock radio station. For pop obsessives side 2 had some lost gems. Hi, Hello Home has some pretty banjo and is a folk-rocker that strongly recalled the Buffalo Springfield classic A Child's Claim to Fame. Other tracks such as Just A Poem, Sometimes and the excellent harpsichord/strings ballad Soft Fun have a lost romanticism that really penetrates the soul.
There are no weak moments on this lp and as solid as it is, Lost a Number is the one track that exists outside the box. It's a timeless classic, a heartbreaking piece of lost love with beautiful accordian playing and a catchy melody. In a perfect world, had this wonderful power pop song been released as a single, it would have been a hit record. Lofgren went on to release a few more records with Grin and some fine critically acclaimed solo works throughout the 1970's.
Audio clip: Adobe Flash Player (version 9 or above) is required to play this audio clip. Download the latest version here. You also need to have JavaScript enabled in your browser.
"Lost A Number"
[ Buy twofer @ Amazon
| Search eBay ]
Also Recommended