Harumi "Harumi"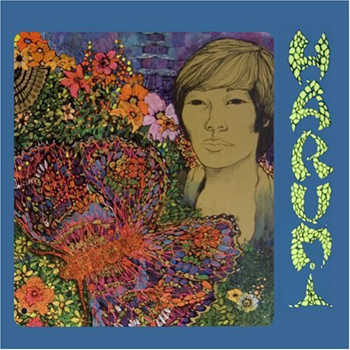 There are many albums by  unknown artists that deserve to be dug up and reexamined (or perhaps examined for the first time). Then there are the very few that reach up and grab you by the ears, making you wonder why they were ever forgotten in the first place.  Harumi falls into the second category.
Somehow an unknown from Japan (with feminine name) managed to locate one of the most renowned producers of the day to record his self titled debut record for Verve in 1968. Tom Wilson, the impresario behind both Dylan and Nico's best loved albums heard something special in Harumi's psyched out English-penned originals and we are still reaping the benefits of that union today.
Comparisons don't give this music its due. Easy references like mid period Byrds or Jefferson Airplane might be obvious because of the relatively familiar aesthetic (for the time period) , but there is much to this record that greatly sets it apart from the more successful contemporary acts.
The main draw here is Harumi's exceptional original songs and the way his drugged out voice navigates them. "First Impressions" begins with a Zombie-esque guitar and organ lick before catapulting into full pop mode with strings and brass. Harumi sounds haunting here, especially when he glides back in after the baroque instrumental break in the middle. This track drips with an endless summer vibe that spills over on the rest of the record.
Organ and jazzy vibraphone (along with assorted Japanese instruments) are present on nearly every track, filling out an already tight rhythm section. Little subtleties, like the phase effect on Harumi's vocals on "Sugar in Your Tea", or the Eastern sounding guitar on "We Love" crawl to the fore on repeat listens. The latter song is one of the best here- it grooves steadily through the haze and features some lyrical highlights like "Would you like to say hello to everyone that you have ever known?" and "You are me and I am you- there is no comparison for two".
From start to finish (including the 2 extended cuts that make up the second half of this double album), Harumi is a remarkable listen that sets a very persistent vibe.
Audio clip: Adobe Flash Player (version 9 or above) is required to play this audio clip. Download the latest version here. You also need to have JavaScript enabled in your browser.
"First Impressions"

Original  | 1968 | Verve Forecase | search ebay ]


Reissue | Don't Buy Fallout ]
Also Recommended