Help Yourself "Help Yourself"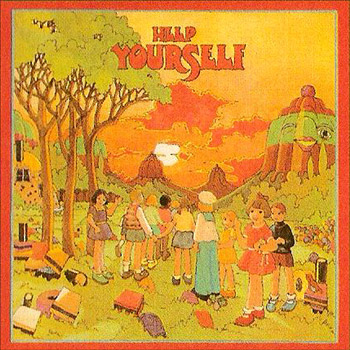 Unable to get over my Ernie Graham addiction, I set out in search of more from the ilk of rootsy pre pub rock and stumbled across this gem from 1971. Help Yourself formed in the wake of Brinsley Schwarz but with a strong ear to The Band, forging a raw and honest Americana sound on their first LP. Not nearly as dippy as the cover art suggests, this is a fine sample of straight California rock that's really from the UK.
Recorded at The Grange in Headley, previously used by Led Zeppelin to record the Four Symbols album, the Helps were trying to let the rural environment to influence their music. If this is the case, the landscape in Headley must be no different than the piece of earth Neil Young was treading around the same time. The Help Yourself album is eerily similar to Young's sound in almost every regard; they even have a song called Old Man, which is a really fine but totally different song.
The record opens with a feel good gospel track, I Must See Jesus For Myself, that I can't help but think was meant to be ironic. This is sure to throw off listeners, but maybe attract those who don't mind a little Jesus in their tunes. In any case, you might want to start this record from the 2nd groove. From there on the record showcases great melodies, great double guitar noodling (to great effect with acoustic and electric on separate channels), great songcraft, great CSNY influenced harmonies, and great overall sound. There you have it: six greats for this easily overlooked LP that could and should sneak its way into the playlist of any Neil Young fan.
The second album, attached in the BGO 2fer, adds a clean, phased sound to the recording that gets a little cheezier. Not to say this is a discountable record, just that it maybe draws too near the Ducks Deluxe pub rock approach for my tastes.
Help Yourself. Don't mind if I do.
Audio clip: Adobe Flash Player (version 9 or above) is required to play this audio clip. Download the latest version here. You also need to have JavaScript enabled in your browser.
"Your Eyes Are Looking Down"

CD Reissue | 2002 | Beat Goes On | buy from amazon
]


Original Vinyl | 1971 | UA | search ebay ]
Also Recommended