Henske & Yester "Farewell Aldebaran"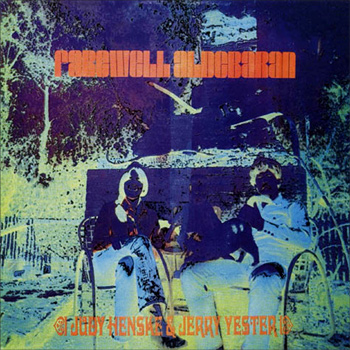 Farewell Aldebaran was one of the key albums that signified the end of the 60's. It's one of the great cult rock records with a beautiful melancholy edge that few artists have equaled since.
Farewell Aldebaran was released by the fabled Straight label in 1969. Both Judy Henske (folk) and Jerry Yester (production) had been in the music business for years before cutting this astonishing record. It's actually unbelievable that few people picked up on the great music this duo produced. After almost 40 years, this album comes off like a well worn classic. Every song is uniformly strong and there are some exquisite arrangements, weird but clever lyrics, and creative string and horn arrangements.
The harpsichord laced folk ballad Lullaby is strangely alluring, with a puzzled, jarring edge that recalls how our great nation felt as the decade came to an uncertain end. Snowblind, opens the album with a boom, it's really the oddball amongst a quiet group of songs but an effective, hard charging psychedelic rocker nonetheless. This composition really gives Henske room to stretch out and let her vocals roar with conviction and arrogance. The Raider is another great song with a great backwoods feel. For some people this is absolute nirvana, five minutes of great fiddle, banjo, accoustic guitars and hillbilly vocalizing delivered with 1850's drunk on whiskey venom. But this is really just the beginning, as there are gothic ballads, bubblegum pop, entrancing folk-rock and psychedelic love songs. Three Ravens, is an absolutely stunning psychedelic ballad with a sweeping string arrangement (and horns) and an otherworldly vocal performance from Judy Henske. Others may have a soft spot for Charity, which is a finely crafted sunshine pop, folk-rock song with just a hint of sadness.
At this point in the decade, the Vietnam War and civil rights issues were exhausting people and musicians worldwide. Hence, you can hear the pain within the music. The duo managed to release one more album in 1970 under the Rosebud moniker. Rosebud was fair at best, possessing none of the magic the duo captured on Farewell Aldebaran. I must add that it's records like Farewell Aldebaran that keep me going. It's rare to come across something so honest, unpretentious, homespun and most of all, real. A wonder to behold!!
Audio clip: Adobe Flash Player (version 9 or above) is required to play this audio clip. Download the latest version here. You also need to have JavaScript enabled in your browser.
"Lullaby"
This record has unfortunately been heisted by Fallout Records and is being sold without permission from the artist or copyright holders. We won't be reviewing any more records that are only available from Fallout and urge you to find it in any way that won't profit this pirate organization. Click here to learn more.
Also Recommended