Hickory Wind "Hickory Wind"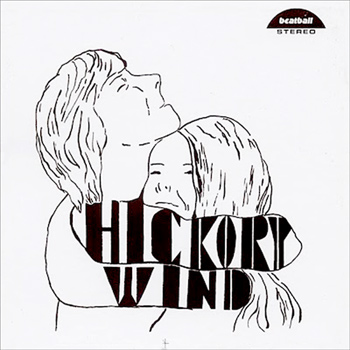 This group took their name from the classic Byrds/Gram Parsons song.  Hickory Wind, from Indiana, were fairly young musicians when they cut this mini gem in 1969.  If you consider the limited studio technology on hand, Hickory Wind came up big, with a very good country-rock garage psych private press LP.  Initially, when you look at the record, it resembles one of those male/female folk duo LPs or maybe a private press christian rock album (note the small crucifix at the bottom of the record and the amatuer illustration).  Thankfully, it's neither of those.   There are mild Buffalo Springfield, Byrds and Beatles echoes throughout the album but closer, more accurate references might be  Riley or Spur.
Most of the albums tracks are strong but only a handful qualify as excellent.   "Father Come With Me" and the bizarre spoken word number "Mr. Man" give the album its psychedelic folk-rock sheen – both are great tracks with lots of organ and moody garage vocals.  "Time and Changes," a pounding garage rocker with sizzling fuzz would soon be recut by B.F. Trike, which was essentially a later version of Hickory Wind.  In some circles, "Time and Changes" is considered a classic.  The remaining cuts have a strong country-rock/folk-rock flavor.  The bare bones production of Hickory Wind gives these compositions a unique quality that makes this album memorable – no albums I know of have quite this sound.  "Country Boy," "The Loner," "I Don't Believe," "Judy," and "Maybe Tomorrow" are well worth hearing, all eerie slices of early country-rock/Americana.
I've read other reviews that describe Hickory Wind as only half a good album or not that good at all.  Don't believe this.  Hickory Wind is a fine album – consistent throughout with lots of interesting twists and turns.  Check out the recent Beatball reissue as original vinyl LPs will be impossible to find (just 100 original Gigantic label LPs were pressed).  Rockadelic would release B.F. Trike's only album, which is also a good post psychedelic hard rock album.
Audio clip: Adobe Flash Player (version 9 or above) is required to play this audio clip. Download the latest version here. You also need to have JavaScript enabled in your browser.
"Country Boy"

CD Reissue | 2007 | Beatball | buy here ]


Vinyl | 1969 | Gigantic | search ebay ]
Also Recommended