Hour Glass "Power of Love"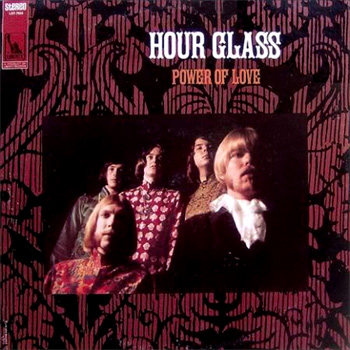 Some folks out there will tell you that the two records cut for Columbia Records by The Hour Glass, Gregg and Duane Allman's early west-coast rock and roll band, are nothing but commercial garbage. Don't listen to them. From the perspective of the rabid, biker-boogieing Allman Brothers fan, The Hour Glass may very well come across as nothing but lysergic flower-child pop, but to the more informed listener a record like The Power of Love is a rare and valuable slice of psychedelic soul; I know that, for this long-time Allman Brothers fan, these Hour Glass recordings have actually edged out that later band's albums on my turntable by a considerable degree, though I will confess to occasionally missing Duane's inimitable bottleneck runs.
Cut between reworked songs by southern soul legends like Don Covay, Eddie Hinton and Dan Penn and memorable originals, The Power of Love really does (for lack of loftier language) kick ass from start to finish. Duane Allman's heavy fuzz guitar and electric sitar may be a world away from the supple slide style that made him a household name, but it does have a vintage appeal of its own, and at the very least manages to display the guitarist's legendary ear for melody. Meanwhile, Gregg's singing is as heavy and soulful as it would ever be – just listen as he tears the roof off of songs like "Home" and "I Still Want Your Love," sounding much more rough-hewn than his tender age would otherwise imply. So many of these tunes had Billboard potential that it blows my mind that this band never managed to take off, whatever record company hassles they were caught up  in at the time.
Some of my personal favorites here include the organ-driven "Changing of the Guard," the wild, burning take on Eddie Hinton's "Down In Texas," and the righteous, reverberating psychedelia of the closing number, "Now Is the Time." Duane's solo on that last piece displays a radical controlled feedback tone that really makes it for me, and his sitar spotlight on the group's jazzy instrumental reading of The Beatles evergreen "Norwegian Wood" is entertaining, if rather inconsequential. After hearing these numbers one almost wishes that more of the artistic eccentricities heard here had carried over into the brothers' latter-day careers.
The Hour Glass recordings have been repackaged and reissued under a number of different titles, but I'd say the best place to find them is in the comprehensive Hour Glass anthology, originally a double LP released in the early seventies but recently remastered by Beat Goes On Records.
mp3: Still Want Your Love
mp3: Now Is the Time

Original | 1968 | Liberty | search ]


Reissue | 2001 | BGO | buy ]


Spotify link | listen ]
Also Recommended