Jimmy Arnold "Southern Soul"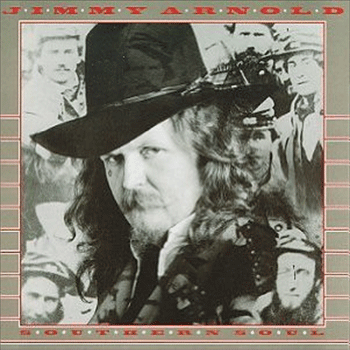 Given that Jimmy Arnold may just have been the finest five-string banjo player on the planet in the 1970s, there's precious little written down about him, and little more available to listen to. The best write-up I've managed to unearth is Eddie Dean's sleeve notes to the Arnold best-of CD RidingWith Ol' Mosby. Born in the cotton mill country of Fries, VA, the teenage Arnold emerged as a banjo prodigy in the bluegrass idiom of his native Blue Ridge Mountains, but he was never destined to become a country rock legend or an indispensable Nashville A-teamer. His maverick personality resulted in a wanderlust, possibly born out of his Cherokee lineage, that took him randomly over the US and Latin America and as far as Australia; a drive to widen his talents that saw him become similarly virtuosic on guitar and fiddle; a regime of alcohol and substance abuse that put the likes of Johnny Cash in the shade; and a refusal to stick with any one project that saw him release just three albums during a ten-year solo recording career.
The first two, Strictly Arnold and Rainbow Ride, are low-key instrumental expositions of banjo skills of astonishing quality and great variety, comprising traditional and original tunes sparely recorded with a respectful rhythm section and just the limpid Dobro of longtime musical companion Mike Auldridge as a foil. The third and final album is a rather different work, the product of an obsession that Arnold developed whilst resident in Fredericksburg at the age of 31, surrounded by the battlefields and graveyards of The War Between The States. Southern Soul is a song cycle dedicated to the Confederate cause.
As far as possible from the redneck rebel rawk'n'roll of the likes of Lynyrd Skynyrd, Arnold's opus presents us with a series of wistful, occasionally maudlin paeans to heroes and generic figures of the South. We get five traditional ballads and instrumentals, eight original Arnold songs which mostly echo that same downhome feel, and a cover of Robbie Robertson's lament "The Night They Drove Old Dixie Down" which ought to sound out of place amongst the rustic simplicity of the other tracks but which fits almost seamlessly due to Arnold's unforced delivery and the gorgeous, restrained Dobro work of Mike Auldridge. Jimmy multi-tracks on lead guitar, fiddle and banjo, combining the most conservative of traditional licks with unexpected jazzy and modal flourishes. For the first time he vocalises on record, and his sweet, slightly cracked Southern accent is perfect for these lyrics.The three most immediately striking songs are "Jesse James" which recounts the adventures of that individual during and after the conflict, the self-explanatory "General Lee" and the traditional "My Home's Across The Blue Ridge Mountains", and these three tracks can also be found on the Mosby compilation. However that record concentrates mainly on Arnold's earlier instrumental work, hence for the full flavour of Southern Soul hearing the actual album is a must. My personal favourites are the violin-drenched "Heroes", the nostalgic waltz "The Dixon Line" and the traditional "Lorena" on which Auldridge and Arnold swap exquisite lines on Dobro and guitar.
After completing this album Arnold's career veered wildly; he became a tattoo artist, a drug dealer (subsequently convicted), a painter and finally a musician in Pentecostal churches. However, continued severe alcohol abuse weakened him fatally and at 41 he was dead. A number of incomplete projects are rumoured to be still around, and the Mosby compilation also includes three previously unreleased instrumental tracks. Both albums are recommended, but the atypical Southern Soul will surely remain his masterpiece.
Audio clip: Adobe Flash Player (version 9 or above) is required to play this audio clip. Download the latest version here. You also need to have JavaScript enabled in your browser.
"Lorena"

CD Reissue | 1994 | Rebel Records | buy here ]
Also Recommended