Joe Walsh "Barnstorm"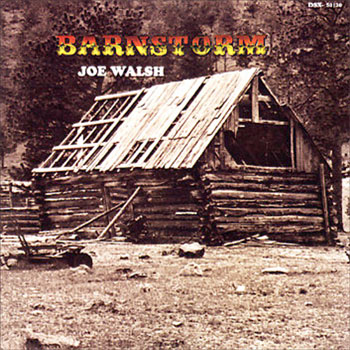 Joe Walsh is one of those artists that will always be remembered for classic rock radio hits "Funk #49," "Rocky Mountain Way," and "Life's Been Good."  Then of course was his memorable stint in the Eagles, which yielded the highly successful Hotel California album.  He was one of the prime architects of the classic rock sound and his radio smashes are stilled played every day at the top of each hour.   Prior to the Eagles and "Rocky Mountain Way," Joe Walsh made great music with the James Gang (Rides Again is one of the great classic rock LPs) and this, his first solo album from 1972, Barnstorm (the group is often referred to as the Barnstormers).
The Barnstorm group was put together shortly after Walsh left the James Gang.  The songs were recorded in Nederland, CO with the help of bassist Kenny Passarelli and drummer Joe Vitale, the latter had played with Walsh in 60s garage band the Measles.  The trio recorded an album that rocks hard at times but also has a strong roots/country flavor.  It's a unique disc in Walsh's varied discography, as he would never record anything like Barnstorm again.  "Turn To Stone," the hardest rocker on the album, holds up pretty well and is similar to something the James Gang might have recorded in 1970.  Walsh would revisit this excellent track on 75's So What but I feel the version heard here sounds best.  Most of the album is earthy roots rock that retains powerful classic rock-like hooks, just listen to the album's closing cut "Comin' Down."  Here you have just Walsh's vocals, guitar and harmonica but moving stuff nonetheless.  My favorite cuts on the album are "Home," "I'll Tell The World About You," the psychedelic country rocker "Midnight Visitor" and the classic Americana of "Birdcall Morning."   The latter is truly amazing, highlighted by sparkling acoustic guitars and some rustic slide work – it should have been a radio anthem.
Barnstorm contains imaginative music, wonderful guitar solos, unique songwriting, great ensemble playing and sharp humor – really Joe Walsh at his best.  Some songs have synth and hit a more experimental vibe but they work well in the context of this album.  Barnstorm is a masterpiece, a must hear for fans of country influenced hard rock.  Every track is worth multiple spins and listeners will immediately identify with the amount of thought and care put into each song and guitar solo.  It goes without saying that this record is a lost classic.
Barnstorm
mp3: Comin' Down
mp3: Midnight Visitor
Rides Again (1970)
mp3: There I Go Again

CD Reissue | 2006 | Hip-O | buy at amazon ]


Original Vinyl | 1972 | Dunhill | search ebay ]
Also Recommended