Kaleidoscope (US) "Incredible!"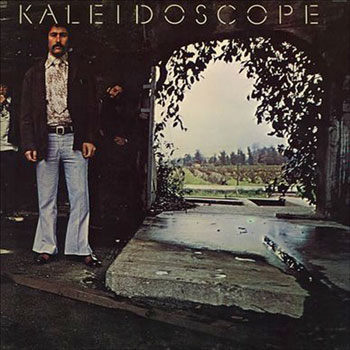 Kaleidoscope was an important architect of the American rock n roll sound. This group introduced ethnic sounds that were new and exciting back in the 60s and also featured some fine techinical players in David Lindley and Chris Darrow. Incredible! was their last really good album that saw the departure of Darrow, one of the group's founders and a key component to Kaleidoscope's special sound. Darrow explained a while back:
"The root of the problem, was a combination of business hassles and the fact that we weren't a success commercially. The effect was astonishing; friends started acting like enemies…and, in the end, I just passed. I said 'that's it…I'm going,' at which point David said 'you're fired anyway' – it was he who fired me. So I quit and got fired at the same time. It just ceased to satisfy me all of a sudden – something had to give, and the obvious solution was a change in personnel."
Darrow went on to release a few solo efforts and contribute some fine material to the late 60s/early 70s Nitty Gritty Dirt Band. His departure was a major blow but the group rallied and released what many feel is their most consistent record to date. Side Trips (1967) and A Beacon From Mars (1968-) were both excellent, eclectic records with more of a psychedelic feel though Incredible saw the band maturing, incorporating elements of cajun, blues and bluegrass into an already diverse mixture of music styles. They never abandon psychedelia though, and turn in two outstanding eastern rockers, the funky Lie To Me, which had serious radio potential and the cosmic 11-minute Seven-Ate Sweet. These tracks bookend Incredible though blues rockers Killing Floor and Cuckoo are just as strong and highlight some fine harmonica playing and nice subtle fuzz guitar work. Other tracks like the stark instrumental Banjo are inventive and show us how good a banjo player David Lindley was.
Fans of psychedelia and roots music are urged to seek out Kaleidscope's first three albums and non-lp singles, these are all "must haves." Kaleidoscope is one of America's greatest lost groups, they were always ambitious, trying out new ideas and never giving in to commercial demands.
Audio clip: Adobe Flash Player (version 9 or above) is required to play this audio clip. Download the latest version here. You also need to have JavaScript enabled in your browser.
"Lie To Me"

CD Reissue | 1994 | Edsel | buy from amazon
]


Original Vinyl | 1969 | Epic | search ebay ]
Also Recommended